Criminal charge refiled against Joe Mixon for January incident, police say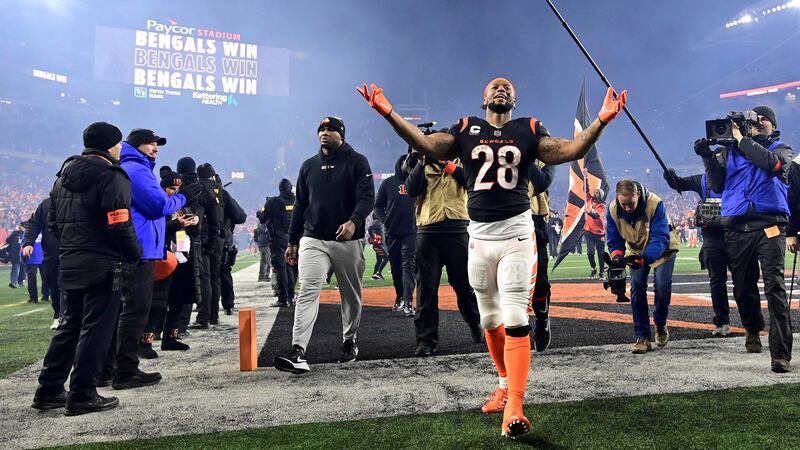 Published: Apr. 7, 2023 at 10:34 AM CDT
CINCINNATI (WXIX) - A criminal charge against Cincinnati Bengals running back Joe Mixon has been refiled, the Cincinnati Police Department announced Friday.
The misdemeanor charge of aggravated menacing stems from a claim that Mixon pointed a gun at someone on Jan. 21 in the 300 block of Walnut Street in downtown Cincinnati, according to the initial complaint.
"This is a misdemeanor of the first degree. It's the highest level of a misdemeanor. It's one level below a felony. The maximum punishment if a person is convicted is six months in jail or a fine of $1,000 or both," FOX19 NOW legal analyst Mark Krumbein said.
Mixon is accused of telling the victim, "You should be popped in the face. I should shoot you. The police can't get me," court records detailed.
The victim told officers the threat was a result of "road rage," the incident report reads.
An arrest warrant for Mixon was issued on Feb. 2, but just a day later, the charge filed by Officer Jeff Ruberg was dismissed at the request of the city prosecutor.
The arrest warrant against Mixon was issued prematurely and resulted from a procedural misstep, the Cincinnati Police Department said in a Feb. 3 written statement.
Officer Ruberg, who filed the initial charge, was later disciplined, Lt. Jonathan Cunningham said previously.
Krumbein says refiling charges after a dismissal is not typical.
"It's not common at all. We've learned that the Cincinnati police have a special procedure for high-profile individuals that they need to investigate thoroughly before they charge. And we've heard the police say he was charged too quickly," Krumbein said.
Cincinnati police said Friday that new evidence was found during their investigation which led to the misdemeanor aggravated menacing charge against Mixon being refiled.
Mixon is scheduled to appear in court on April 19 at 12:30 p.m., according to police.
The Bengals did release a statement following Friday's announcement from Cincinnati police.
Mixon has found his name the subject of other news headlines following the end of the Bengals season.
His sister, Shalonda Mixon, and her boyfriend, Lamonte Brewer, were indicted on charges in connection with a shooting outside of the star running back's home on March 6.
While Mixon was home at the time, Hamilton County Prosecutor Melissa Powers firmly stated in a press conference that the Bengals running back "did not commit a crime" that night.
Brewer, according to Powers, fired 10 to 11 shots at a 16-year-old who was playing "Nerf wars" outside of Mixon's home in Anderson Township.
The teen was shot in the foot as he tried to run away when the gunshots began, deputies wrote in their initial report.
See a spelling or grammar error in our story? Please click here to report it and include the headline of the story in your email.
Do you have a photo or video of a breaking news story? Send it to us here with a brief description.
Copyright 2023 WXIX. All rights reserved.