Mild & Muggy This Evening | Strong Storms Possible Late Tomorrow
First Alert Weather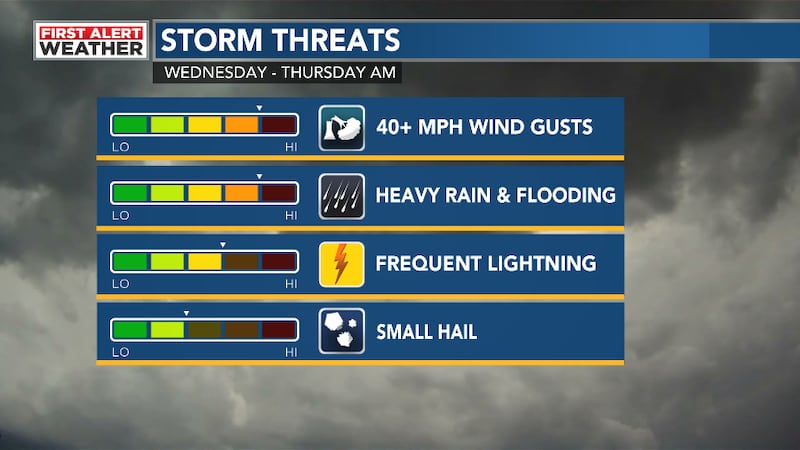 Published: Apr. 4, 2023 at 3:58 PM CDT
The majority of cloud cover has slowly cleared out late this afternoon with a breezy south wind bringing in higher humidity across the Valley. Expect temperatures to remain warm as we head into the early evening with highs in the low to mid 80s. Clouds will return overnight with the steady south breeze staying with us and this will keep overnight lows warm in the mid to upper 60s. Wednesday will feature partly cloudy to mostly cloudy skies with highs again reaching the middle 80s. It will be a windy day with occasional wind gusts close to 40 mph.
Scattered to numerous showers and storms will develop into the later afternoon and evening hours. Some storms may be strong to marginally severe with main threats including gusty winds, frequent lightning, small hail, and locally heavy rainfall. Parts of NW Alabama have the greatest chance of seeing some of these stronger storms. Showers and storms will continue overnight into early Thursday morning with lingering rain through most of the day. Highs will be cooler behind the cold front in the middle 60s.
More showers look likely for Friday and Saturday with mostly cloudy skies and cooler temperatures in the low to mid 60s. We should start to dry out by Easter Sunday with just isolated shower chances and temperatures near 60 degrees. A warmer and drier trend will be in store for your next work and school week.
Click Here to Subscribe on YouTube: Watch the latest WAFF 48 news, sports & weather videos on our YouTube channel!
Copyright 2023 WAFF. All rights reserved.