Trash Pandas unveil 2023 food and drink menu
New Food And Beverage Items Unveiled For 2023 Season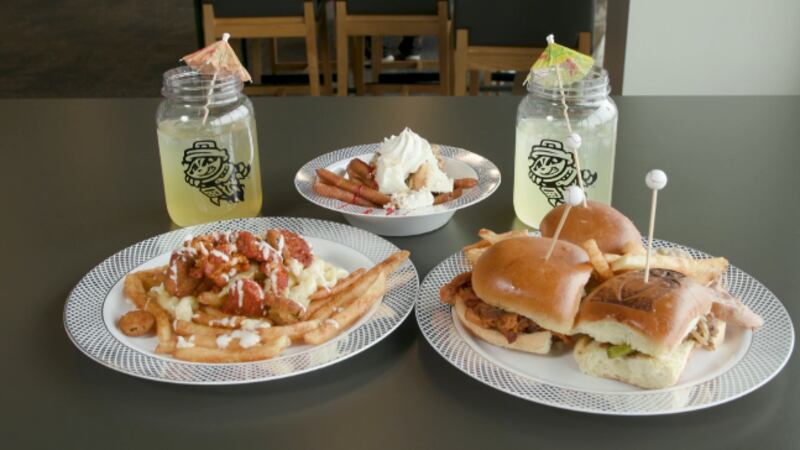 Published: Mar. 21, 2023 at 6:42 PM CDT
HUNTSVILLE, Ala. (WAFF) - In anticipation of Opening Night at Toyota Field on April 6, the Rocket City Trash Pandas unveiled a key aspect of the fan experience with new food and drink options that will be available at the ballpark during the 2023 season.
Many southern staples that debuted in 2022 return to the menu in 2023, with the addition of a variety of items perfect for families, groups, and guests of all ages. The new flare to the menu at Toyota Field includes favorites and sharable items including Philly Cheesesteaks, hot chicken fries, signature sandwiches homemade pizza, and dessert specialties.
"The inspiration for this year's menu was to add more tasty, affordable options for everyone while keeping the southern cuisine that fans enjoyed last year," Trash Pandas Food and Beverage Director Garien Shelby said. "Our goal is that when fans come to Toyota Field, they can enjoy unique items that fit their taste."
Debuting in 2023 will be The Corked Bat, a wine bar on the third base concourse with a selection of seasonal wines. At The Corked Bat, fans will be able to purchase wine by the glass, or even by the bottle to take with them to their seat. Charcuterie options will also be available.
On Friday nights at Toyota Field while the Trash Pandas take the field in their new Halo Blue uniforms, fans can enjoy Halo Blue draft beer, a signature blue cocktail, and berry blue lemonade.
New to the calendar in 2023 will be All You Can Eat Wednesdays (excluding the three Education Day games on April 19, May 3, and September 6). All tickets are specially priced with a $9 increase to include a selection of unlimited food such as hot dogs, burgers, fries, nachos, popcorn and fountain drinks at Gravity Grille and Dumpster Dive concession stands. The Bullpen Bar will also offer unlimited hot dogs, nachos, and fountain drinks.
The new items will be available all throughout Toyota Field, with certain items available at all concession stands on the concourse and others offered upstairs on the suite level and at the SportsMED Stadium Club.
Rocket City Chicken Fries: Crispy classic-cut French fries topped with hot chicken, fried jalapeño caps, and our homemade macaroni and cheese. Served out of Gravity Grille.
Pig Out Sandwich: Smoked bologna, pulled pork, barbecue Conecuh sausage, bacon, barbecue sauce, and cheese on a brioche bun. Served out of Gravity Grille.
Philly Cheesesteak: Sliced sirloin steak, roasted pepper and onion blend, and queso blanco on a hoagie roll. Served out of Dumpster Dive.
Buffalo Chicken Philly: Pulled chicken, garlic buffalo sauce, ranch drizzle, blue cheese crumbles, roasted pepper and onion blend, sliced green onions, and queso blanco on a hoagie roll. Served at Swifty's.
Chopped Cheese Sandwich: Chopped Conecuh sausage, seasoned burger patty, caramelized onions, and jalapeno pimento cheese on a pretzel bun. Served at Swifty's.
BBQ Chicken Tacos: Pulled chicken, pickled red onion and jalapeño, Alabama white sauce, and queso fresco on flour tortillas. Served out of The Bullpen Bar.
BBQ Pork Tacos: Smoked pulled pork, Sweet Baby Ray's barbecue sauce, pickled jalapeño, and pineapple relish on flour tortillas. Served out of The Bullpen Bar.
BBQ Chicken Sandwich: Pulled chicken and Alabama white sauce on a brioche bun. Served at Swifty's.
BBQ Pork Sandwich: Smoked pulled pork and Sweet Baby Ray's barbecue sauce on a brioche bun. Served at Swifty's.
Meatball Hero: Two-ounce Italian meatballs, marinara, and provolone on a hoagie roll. Served out of All-Stars.
Pizza: House-made cheese and pepperoni pizza by the slice, with a gluten free crust available by request. Available at All-Stars.
Chopped Brisket Sandwich: Chopped smoked brisket and Sweet Baby Ray's barbecue sauce on a brioche bun. Served at Swifty's.
Bavarian Pretzel Charcuterie: Large Bavarian pretzel with beer brined bratwurst, smoked Conecuh sausage, steak and onion cheese, smoked gouda, brown mustard, peach preserves, and crackers. Available for fans on the Suite level.
Among the dessert menu additions at Toyota Field in 2023 will be:
Cheesecake Poutine: Funnel cake fries topped with strawberry coulis, cheesecake bites, powdered sugar, and whipped cream. Available at All-Stars.
The Trash Can: Inside a souvenir full-size replica helmet, vanilla ice cream, cookies, brownies, candy, chocolate syrup, whipped cream. Big enough to serve four people. Available at All-Stars.
Returning to the menu in 2023 will be the fan favorite Eat Your Opponent Dogs, with each hot dog dedicated to the local flavor of the Trash Pandas' seven Southern League opponents. In April, the Trash Pandas will host the Chattanooga Lookouts and Biloxi Shuckers. The below hot dogs will be on the menu at Swifty's during each series in April.
Chattanooga Lookouts, Lookout it's Hot Dog: Conecuh hot dog marinated in chilis topped with Jack Daniels Pickles, sweet vinegar slaw, and fresh diced tomato.
Biloxi Shuckers, Shucked Po Boy: Conecuh hot dog featuring remoulade, oysters, shredded lettuce, and diced tomato.
The 2023 Trash Pandas begins on Thursday, April 6 against the Chattanooga Lookouts at Toyota Field. First pitch is set for 6:35 p.m.
Click Here to Subscribe on YouTube: Watch the latest WAFF 48 news, sports & weather videos on our YouTube channel!
Copyright 2023 WAFF. All rights reserved.