Huntsville City FC makes home debut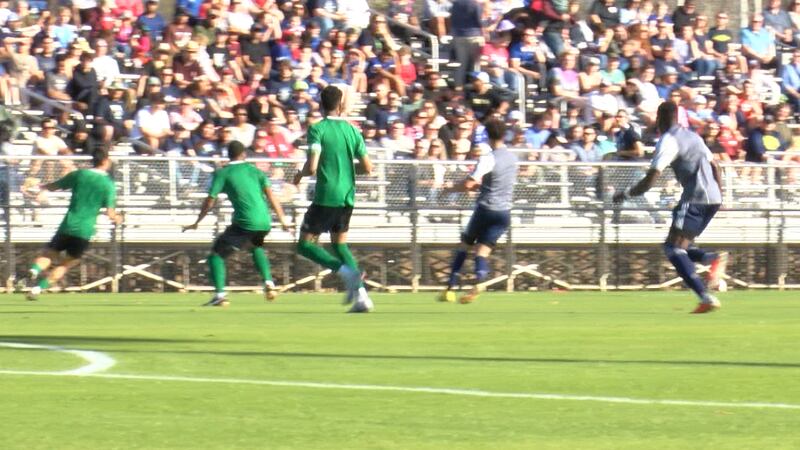 Published: Mar. 4, 2023 at 9:51 PM CST
HUNTSVILLE, Ala. (WAFF) - A new era for pro sports in the Rocket City has begun. The Huntsville City FC soccer team made it's home debut at John Hunt Park on Saturday.
The team is playing at John Hunt while crews put the finishing touches on the nearby Joe Davis Stadium that will soon become the team's full-time home. The Joe has sat empty since the Huntsville Stars left town several years ago.
Judging by the crowd at Saturdays opening pre-season friendly match with Savannah, the Rocket City is embracing the sport Pele once called "The beautiful game". They also appear to be supporting a talented squad. FC beat Savannah 2-0.
Huntsville High School head soccer coach Babeylee Sodadd was one of the hundreds in attendance. He says it's clear that the game is growing here. "Huntsville is a soccer community. There's a lot of people in the community that enjoy the game. With the world cup 2 or 3 months ago you can see soccer grew tremendously within the community."
Tyler Maze is the manager of corporate partnerships for the Huntsville City FC. He was thrilled at the turnout. "There's been a lot of work gone in to it. Honestly, we couldn't be happier with the attendance today." Maze says the key to getting the team established and in the community's heart is having interactions between fans, coaches and players. "The soccer community in Huntsville is massive" Maze said "We've got 3 different supporter groups that have already started."
Huntsville FC will have it's regular season home opener May 19th at Joe Davis Stadium. Huntsville City FC (Football Club) plays in MLSNext, a minor league affiliated with MLS.
Click Here to Subscribe on YouTube: Watch the latest WAFF 48 news, sports & weather videos on our YouTube channel!
Copyright 2023 WAFF. All rights reserved.