Panthers, Bears win state championships
Published: Mar. 3, 2023 at 8:56 PM CST
BIRMINGHAM, Ala. (WAFF) - A pair of big blue maps are headed back to North Alabama. The Mars Hill Bible Panthers and the Plainview Bears won Class 2A girls and 3A boys championships respectively.
Things didn't start well for the Mars Hill Panthers (26-5). Cold Springs (31-3) opened the game with a 14-2 run. Mars Hill responded with a furious second-quarter rally and built a 10-point lead just before halftime.
The lead eventually grew to more than 20 in the second half, as the Panthers, coached by Flora Sweatt, earned a 69-47 victory. Seventh-grader Belle Hill scored 27 points and won the tournament MVP award. Mars Hill captured its first girls' basketball championship since 2005.
"We started off slowly," Sweatt said. "I kept telling the girls, 'Stay in there, we'll be fine. We'll knock down some shots, get some rebounds.' These girls, they took their intensity up a notch. I'm glad we finished a little differently than we started."
Hill, who celebrated her 13th birthday in December, scored 19 of her 27 points in the first half to fuel the Panthers' comeback.
"No. 4 decided she decided she was going to play," Cold Springs coach Tammy West said, referring to Hill's jersey number. "When she decides she's going to play, she's hard to stop. You can't watch that game and think she's a seventh grader."
Hill added eight rebounds, three assists and two steals, while also making 2-of-3 from 3-point range and 11-of-12 at the free throw line.
"I'm so proud of Belle," Mars Hill senior Emma Kate Wright said. "She's a seventh grader, and she acts like a senior. She pushed through the nerves and the stress. She's just a great ball player."
Mars Hill advanced to the state semifinals in 2020, but fell by two to St. Luke's Episcopal. This time, the Panthers made the drive back to Florence with the Blue Map.
"We're over the moon, so happy," Sweatt said.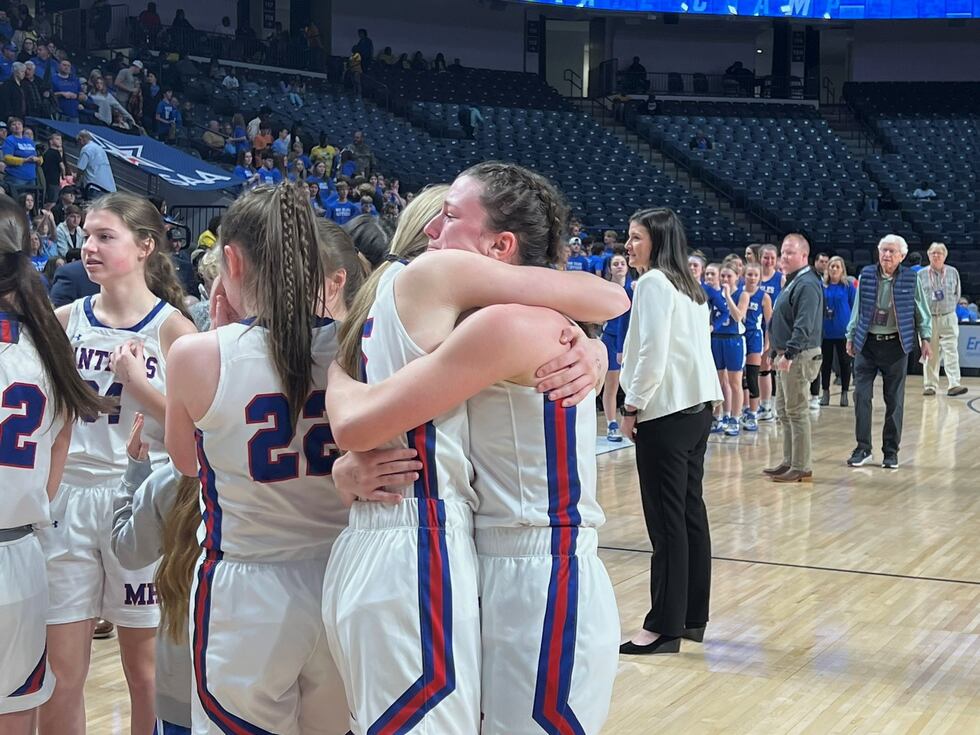 As for Plainview, the Bears slowed the game against Midfield and edged past the Patriots to secure the 40-37 victory and their second straight Class 3A state title.
"It was one of them deals where we felt like Shannon Jones was too good a basketball player for us to press and be efficient," said Coker, referring to Midfield's playmaking point guard. "I knew if we didn't press and lost, I'd be the goat – and not the greatest of all time. We felt like it was our best chance to win the game."
Plainview has now won eight straight games at Legacy Arena, winning state titles in 2018, 2019, 2022 and 2023.
"We didn't achieve our goal of being state champs, but best believe we'll be back," Courtney Jones said. Plainview's Levi Brown hit 3-pointer with 2½ minutes to give the Bears a slim 35-31 lead, and Jonah Williams added two free throws with 22.6 seconds remaining to make it 38-35.
With his team having only two team fouls, Coker called timeout and made another key tactical decision. The Bears began committing fouls – getting whistled for four in about 15 seconds – in an effort to prevent Midfield from attempting a game-tying 3-pointer.
Shannon Jones finally got free for a 3-pointer at the top of the key, but missed. He rebounded it and scored a layup with 1.7 seconds to go to make it 38-37.
Williams then made two free throws with 1.1 seconds left after a quick Midfield foul. The Patriots had one final chance, but Shannon Jones' 50-foot heave hit the backboard and bounced off the rim at the buzzer. Game officials indicated the shot would not have counted.
"Forty was enough today," Plainview senior Luke Smith said.
Plainview trailed 20-16 at halftime, and Coker had a simple answer when asked what changed in the second half.
"We threw the ball to Luke Smith," he said.
Smith, a 6-foot-5 senior, scored 12 of his 18 points in the final two quarters, and he found Brown open for his pivotal 3-pointer. Brown, Landon White and Williams added seven points apiece. Smith was named MVP of the Class 3A state tourney.
"I couldn't be more proud of this group's toughness," Coker said. "They deserve to be champions."
Added Smith, "No better feeling. We knew this was the goal all year. We were able to get the job done."
The Class 5A, 6A and 7A championship games close out the 2023 state tourney Saturday at Legacy Arena.
Click Here to Subscribe on YouTube: Watch the latest WAFF 48 news, sports & weather videos on our YouTube channel!
Copyright 2023 WAFF. All rights reserved.