Covenant Christian named back-to-back Class 1A state champions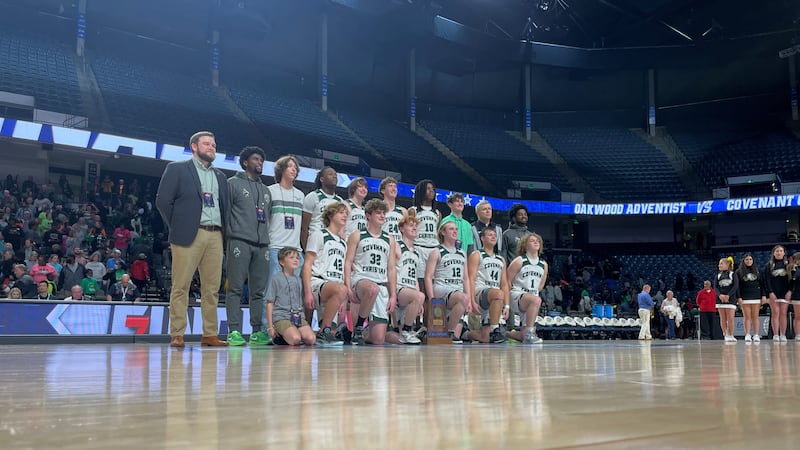 Published: Mar. 2, 2023 at 8:37 PM CST
|
Updated: Mar. 3, 2023 at 7:40 AM CST
BIRMINGHAM, Ala. (WAFF) - In a thrilling Class 1A state finals match-up, Covenant Christian edged past Oakwood Academy, 50-46, to secure back-to-back blue maps.
The Eagles came out strong offensively, jumping to a 20-6 lead in the first quarter, but Oakwood Academy found its rhythm and rallied to get within one point of Covenant Christian in the second half.
Covenant Christian remained consistent, never giving up the lead. Jalen Chandler fouled out late in the fourth quarter, but he led the Eagles with 16 total points and seven rebounds. Covenant Christian head coach Bret Waldrep was overcome with emotions after the win.
"I really don't know what to say, it's still sinking in right now... You know I really hate clichés, I hate coaching clichés, and now I understand why they exist because I don't know what else to say other than I'm really proud," Waldrep said.
Waldrep commended Oakwood Academy's program for their effort on the court. Jayden Nesbitt led the Mustangs with 17 total points and 13 rebounds. Head coach Melvin Allen was all smiles when he entered the press room.
"We truly believe that we're a part of God's plan, and we were really hoping that getting that blue trophy was a part of God's plan, but... it's nearly 80 [Class] 1A schools throughout the state. To be number two is an honor, and we want to cherish that," Allen said.
This was the Mustangs' first state final game. As for the Eagles, the past two seasons they've went 59-9 overall to secure two blue maps their first two state appearances.
Click Here to Subscribe on YouTube: Watch the latest WAFF 48 news, sports & weather videos on our YouTube channel!
Copyright 2023 WAFF. All rights reserved.