Sparkman wins State bowling title
Senators defeat Spain Park 4-3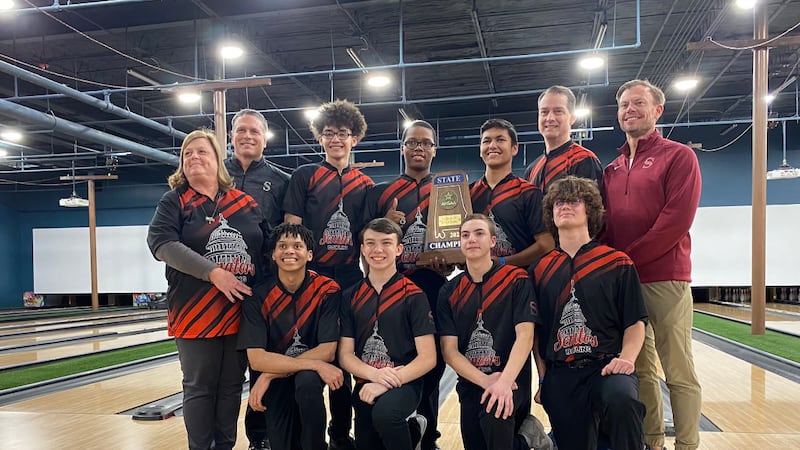 Published: Jan. 27, 2023 at 10:41 PM CST
HUNTSVILLE, Ala. (WAFF) - A big blue map is headed back to North Alabama.
Sparkman High School beat Spain Park 4-3 in a grueling Class 6A/7A Boys' State Bowling finals Friday at The Alley Bowling Center in Gadsden for the second straight year.
The Senators of Coach Lisa Ivey roared through Friday's championship bracket going 3-0 with first-round win over Auburn 4-0 and a semifinal 4-1 victory over Vestavia Hills to reach the finals. The lineup of Rory Donnelly, Dalton Robinson, Zachary Swain, Alfonso Carrington III, and Dalton Tolgo fended off a strong challenge from the defending state champion Spain Park to force game 7 in the championship match.
Led by senor Ethan Lee and junior Michael Kimble, the Jags had eight strikes in game six to post a 245-185 win to force game seven. The Senators closed out the match with a 181-177 win in game seven to close out the championship.
The Jaguars, coached by Stephen Hobbs, came out of Thursday's traditional round as top seed for Friday's championship bracket, and the Senators earned No. 2 seed. Spain Park reached Friday finals with a pair of 4-1 wins over American Christian and Hartselle in the quarterfinals and semifinals to set up the title match. Spain Park also had a 245 in the second game and won game three 194-144 to take a 2-1 lead, but Sparkman's consistency produced narrow wins in games fourth and five.
The Jags finished with 1,339 pins and the Senators had 1,267 – but Sparkman won by making the rolls when they needed to.
Click Here to Subscribe on YouTube: Watch the latest WAFF 48 news, sports & weather videos on our YouTube channel!
Copyright 2023 WAFF. All rights reserved.