UAH Chargers give back to the community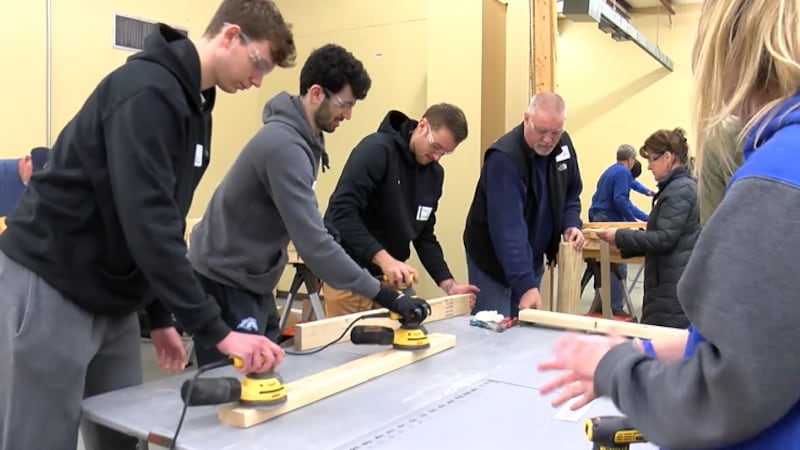 Published: Jan. 22, 2023 at 11:39 PM CST
HUNTSVILLE, Ala. (WAFF) - Both the UAH men's and women's basketball programs joined together to give back to the community on Sunday afternoon by building 25 beds for Sleep in Heavenly Peace (SHP).
SHP is a nonprofit organization that helps build and deliver beds to families in need. The student-athletes helped every step of the way, from sanding the wood to securing the bed frames.
Men's Head Coach John Shulman says this is a great teaching moment for his players.
"College athletes spend a lot of time worrying about college athletes and themselves," Shulman said. "Today is a day to worry about other people, and to think about other people. For that, it's worth every second that we're out here."
Even though both teams are at the height of Gulf South Conference play, this gave the student-athletes the opportunity to have some team-bonding, all while making an impact in the community. Women's Head Coach Andrea Lemmond also believes this was time well spent.
"Just to be able to get out in the community and serve our community in a way we haven't been able to do in awhile is really special and eye opening for our young athletes," Lemmond said.
Both teams will hit the road for their next GSC match-up this Thursday against Shorter. The men are currently 10-5 in their conference, the women 4-11.
For more information on SHP's efforts, visit their website by clicking here.
Click Here to Subscribe on YouTube: Watch the latest WAFF 48 news, sports & weather videos on our YouTube channel!
Copyright 2023 WAFF. All rights reserved.