Post-holiday COVID-19 surge shows less severe cases than in past years
Published: Jan. 20, 2023 at 12:49 PM CST
HUNTSVILLE, Ala. (WAFF) - Another post-holiday COVID-19 surge hit Alabama, but it seems to be on a downward trend as of Jan. 20.
This is the third year in a row where the community saw a rise in COVID-19 hospitalizations after the holiday season, however, cases are a lot less severe in 2023.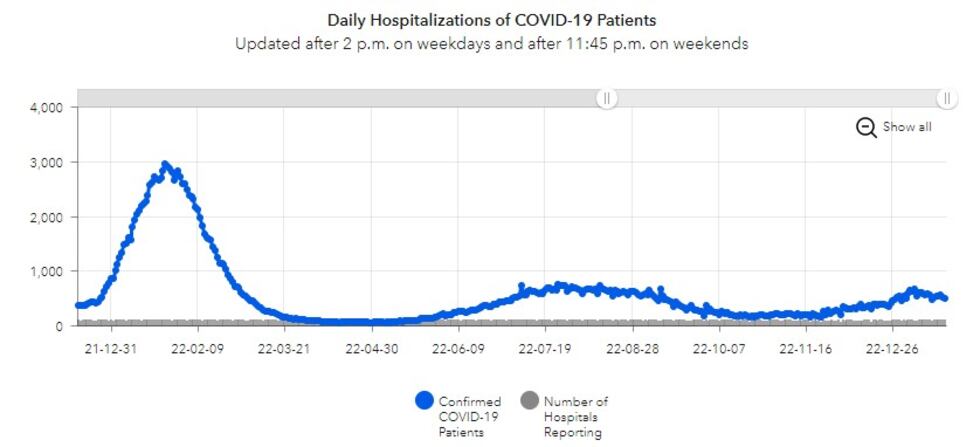 This chart shows the number of people in the hospital at any given time dating back to late December of 2021. One year ago, Alabama hospitals were flooded with nearly 3,000 COVID-19 patients at once. In January 2023, that number is around 500. This post-holiday spike looks more similar to the back-to-school spike in August 2022.
Huntsville Hospital Infectious Disease Specialist Dr. Ali Hassoun expects similar size surges in the future if the variant remains the same. He says there could be a much larger and deadlier spike if a variant, like Delta, emerges.
Taking precautions can keep a variant from becoming more dangerous. Dr. Hassoun recommends wearing masks, getting vaccinated and taking COVID-19 tests.
"To reduce transmission, and that helps in prevention and reduction in cases, would be the moment you get symptoms is to get tested and treated as soon as possible to reduce transmission to others and to reduce your illness as well," said Dr. Hassoun.
There are several more reasons to take active steps to avoid COVID-19. Studies show contracting a moderate COVID-19 case can become "Long COVID" and stretch your symptoms from days to months or years.
Plus, immunocompromised people and the elderly are still at a higher risk of contracting a severe case of COVID-19.
"Whether you're immunocompromised or not, you need to think about the community as a whole," said Dr. Hassoun. "If you can reduce these infections and changes in the virus it will help everybody."
Click here to find free COVID-19 tests are available
Copyright 2023 WAFF. All rights reserved.