Albertville woman indicted on murder charge in death of Jana Chatman
Published: Nov. 24, 2021 at 10:43 AM CST
ALBERTVILLE, Ala. (WAFF) - A Marshall County Grand Jury indicted Leslie Sims, 39, for the 2021 murder of Jana Chatman, 32.
Sims was arrested last year for the murder of Chatman which occurred in November 2021. According to police, Chatman's body was found near an abandoned wrecked car in a ditch on Dixie Dale Road in Albertville. Police later identified Sims as a suspect and she was taken into custody.
During questioning, she confessed to the killing, according to police. Sims is being held in the Marshall County Jail on a $1 million bond.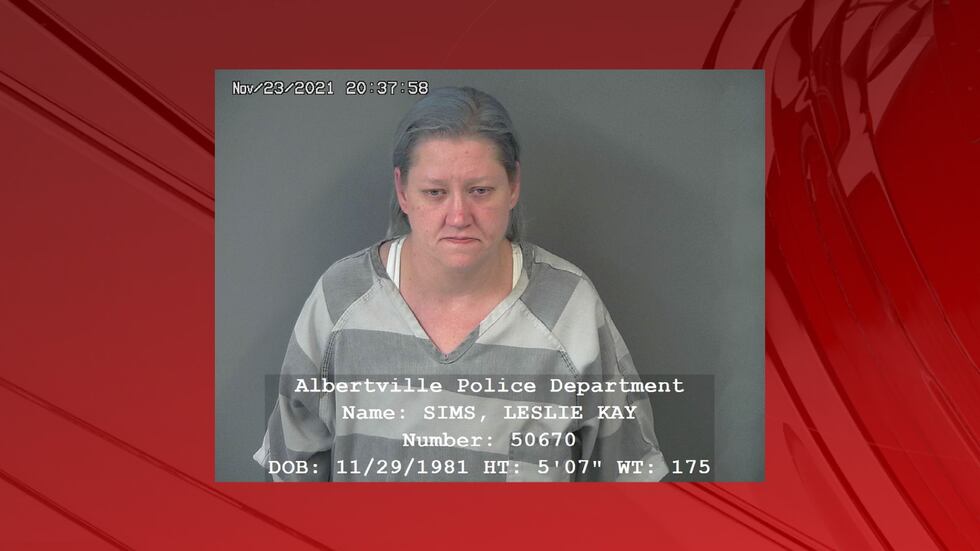 THIS IS A BREAKING NEWS UPDATE. See previous story below.
Albertville Police announced an arrest has been made in a homicide investigation that left one woman dead.
Police Chief Jamie Smith said 39-year-old Leslie Kay Sims was arrested on Tuesday afternoon. Sims was developed as a suspect in recent days and detectives were able to work to locate Sims and bring her in for questioning.
During questioning, Sims confessed to the killing, according to police. Sims is currently in the Albertville City Jail and Detectives are still working toward a motive in the incident. She is expected to be transferred to the custody of the Marshall County Sheriff's Department. Smith says Sims' bond was set at $1 million.
"I told you, baby girl, we wouldn't quit until this person was behind bars. You're home now. Enjoy," said Michelle Abney.
Through emotion and tears, Abney shared a message to her daughter Jana Miller Chatman. On Nov. 5, Chatman was found with multiple gunshot wounds on Dixie Dale Road, with several shell casings at the scene.
After weeks of combing through evidence and following up on leads, investigators were finally able to arrest, Leslie Kay Sims on Tuesday.
"It made me feel good, and then I cried. This person is behind bars now, so I can have Thanksgiving tomorrow, but it won't bring my daughter back. But it brought justice to me knowing that this girl is not out with her family or doing this to anybody else," said Abney.
Chatman's cousin Amy Kirkland said although they know that investigators are dealing with heavy workloads, they are thankful for their hard work to solve the case.
"We knew we weren't going to stop until justice was served, and that's what Michelle and I were talking about it, and we did what we said we were going to do. We are grateful for the police, but we are going to have to figure out now, where do we go as a family," said Kirkland.
Right now, a motive for the incident is still being investigated.
Copyright 2021 WAFF. All rights reserved.