Digging into the Clift Farm development fee: where the money goes and for how long?
Updated: Mar. 31, 2021 at 6:17 PM CDT
HUNTSVILLE, Ala. (WAFF) - Several new businesses along Highway 72 at the Clift Farm Development are charging an extra 3% fee on each purchase. You can find the charge on the end of each receipt.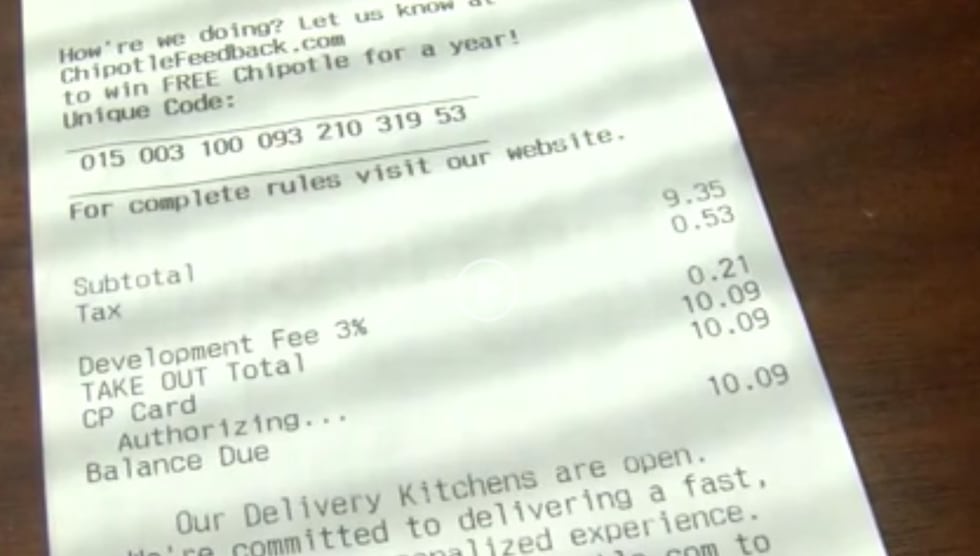 Several shoppers noticed this, talked about it in Facebook groups and reached out to WAFF 48 asking what exactly is going on.
"My neighbors and I feel like this is a shady situation," said Pamelia Jackson, a longtime Madison resident.
"My initial reaction was one of dismay," said Jennifer Ezell. She's lived in Harvest for more then two decades. "I thought, 'What is this fee for? Who is collecting it? How are they collecting it? What's it going for?' and no one seems to know."
Ezell said she didn't even notice it when she first spent money at a business on the Clift Farm development. Instead, she heard of it first on social media.
"It seemed a little under the table," Ezell said. "They didn't say, 'This is what it's for, this is how we're using it.'"
Joey Ceci is the spokesperson for Breland Companies, the developer of Clift Farm. He told WAFF this 3% development fee is charged at every business on Clift Farm, except for the Publix.
Right now, Clift Farm is home to Chipotle, Taco Mama, The Joint Chiropractic, Papa Murphy's, Hot Worx, Hollywood Feed and has more businesses on the way. A Chick-fil-a and a Jonathan's Grille, a Tennessee based restaurant, are being built right now. There is also a "coming soon" sign on a storefront next to the Papa Murphy's advertising a Lush Nails.
Ceci said each of these businesses will charge an extra 3% fee that will go to public infrastructure.
"The money that is being collected here, through this fee, is paying for public infrastructure and infrastructure to support the project and the retailers," Ceci said. "You can drive out here and see the tens-of-millions of dollars everyday."
The Clift Farm development is more than 500 acres and before Breland Companies acquired it, the land was totally undeveloped. Ceci said the price tag for all the public infrastructure is $45 million.
Ceci said it comes down to building in unincorporated Madison County verse a city like Huntsville or Madison. Ceci said if this project were in Huntsville or Madison, tax payer money would be used for the public infrastructure. Madison County can't offer any financial help, so Ceci said they're using the development fee to help pay for the public infrastructure.
"We came up with a different way to do it with these user fees, so only the people that shop here, that are using it and getting the benefit, they end up paying that fee," Ceci said.
On top of that, Ceci said the cost of a product on Clift Farm is still cheaper, overall, than the same product would be in Huntsville or Madison.
In unincorporated Madison County, taxes total out to 5.5%. When you add this 3% on top of that, it ends up being 8.5%. Both Huntsville and Madison have 9% in total taxes.
"It ends up being no net increase or additional cost to consumers, because they are paying two or three cents less here for the same item than if they were to buy it in Huntsville or Madison," Ceci said.
Even with the explanation, both Ezell and Jackson aren't big fans of an extra 3% fee and are mad they found out about it from other sources than the developer or Madison County Commission.
"There's little to no transparency," Jackson said.
Another chief concern with the fee is how it's being spent.
Ceci said all the money from the 3% development fee is going toward public infrastructure. When WAFF looked into the Clift Farm Community Operating Agreement, the contract between Breland Companies and the Clift Farms businesses, there was no mention of how the money would be spent.
In the operating agreement, there are seven sections. One of them is titled "Clift Farm Development Fee".
The section outlines the 3% fee, how it's added onto every purchase at each business except for Publix, how it cannot be increased and several other stipulations on the businesses. No where in the agreement does it guarantee or specify what the money from the 3% fee will be used on.
When asked if there is any regulation over what the fee has to be spent on, Ceci did not give a direct answer.
"You can drive out here today and see the tens-of-millions of dollars spent on infrastructure," Ceci said. "So if we're not paying it with this fee, it's not going to get paid for."
For the sake of transparency, WAFF asked Ceci if Breland Companies would be releasing how much money they make off this 3% fee and how it's spent. Ceci said if people want to see how the money from the 3% fee is spent, they can drive out to Clift Farm and see all of the public infrastructure already built and being built.
This answer didn't hold up for Ezell.
"I feel like that's a copout, how can we tell, you know?" she said. "I don't like that response."
Without regulation, Ezell and Jackson are both worried where the money could be going.
"He could go buy a yacht somewhere for all I know with this money, or go give all his employees a raise," Ezell said.
"An enormous amount of money is unregulated and no one knows where it goes," Jackson said.
There concerns don't end there, Ezell and Jackson are also worried about how long this fee will last.
According to the Clift Farm Community Operating Agreement, the fee lasts as long as the agreement, 50 years. Ceci confirmed it, as well.
"The time limit on the agreement has been done with the developer and the store is for 50 years," Ceci said.
He also said the money will continually be used to pay for public infrastructure because there will constantly be more public infrastructure to be built, repaired and maintained.
"There is additional infrastructure that has to be done, there is maintenance on that infrastructure once it gets done, there is the maintenance of all these common areas that you have with the trails and the landscaping and such, so this is something that's really going to be ongoing," Ceci said.
Ceci also said the 3% fee won't be able to pay for all the public infrastructure, either.
"I foresee that it will still end up costing the developer more money, especially in the short term, than he would ever collect his fee," Ceci said. "You got to remember, the commercial segment here is not going to be huge, it's going to be nice, there are going to be great restaurants here, but this does not add up to lots and lots of money."
When asked if there is potential for this fee to be shortened or extended, Ceci said he didn't know what would happen.
"There are a lot of things that could happen in 50 years, there's certainly a chance it might be that at some point the county might do a tax, at some point parts of this could get annexed into one city or the other," Ceci said. "So again, nobody knows what's going to happen over 50 years. I can say the agreement today is for 50 years."
Ezell and Jackson were both disappointed in this and also both questioned what their elected leadership is doing.
"Ultimately, I'm really disappointed in our elected officials who have enabled the developer to hurt the taxpayers," Jackson said.
Ezell said she felt like the taxpayers were being exploited.
"What are our county commissioners doing, what are they saying?" she asked.
"The county had no involvement, no knowledge and no approval of it," said Madison County District 4 Commissioner Phil Vandiver.
The Clift Farm development falls on the edge of his district and he said he didn't find out about the fee until a concerned customer called him after seeing it on his receipt.
"They didn't come to us and talk about a development fee," Vandiver said. "First I heard of it, there was citizens going out there and asking, 'Have you been here?'"
Vandiver said he then went to Ceci and asked how the county is involved and Ceci said the county isn't. Vandiver then said he checked with the Madison County Commission lawyer and he confirmed what Ceci had said.
"This is an agreement between the store owners and the developer, the county is not involved in that," Vandiver said.
However, Vandiver said there is a connection between Madison County and Breland Companies' Clift Farm development: an improvement district.
"The county set up an improvement district out there with them, which allows them to put in three roads," Vandiver said. "They put in the extra lane on Highway 72, there's a road that goes from highway 72 to Wall Triana and road from Highway 72 to Balch Rd.'"
Vandiver said those roads are a $14 million expense and the improvement district allows Breland Companies to assess this money from the eventual homeowners to pay for those roads. Vandiver said the county has allowed Breland Companies to do this.
He said outside of this, Madison County is not involved in Clift Farms.
When asked if there has ever been anything like this development fee before, Vandiver said there is a "Harvest Fee" on the Publix at Harvest Square off of Jordan Ln., but that was done in a completely different way.
"That one is set up straight to pay for the improvement for the sewer and the road and all the infrastructure that you had to put in to bring a development like that out to the county, at that time," Vandiver said. "You didn't have sewer close up here, you didn't have a road that allowed that to go through like that."
He said that fee has Madison County Commission oversight and will expire when all of the infrastructure is paid off and it looks like that will happen in 2023.
Back to the 3% Clift Farm development fee. Vandiver said despite the Madison County Commission not being involved, he would've liked a heads up.
"I would like to know exactly what goes on, I think that a district commissioner needs to know the information to where at least he can speak in public about it," he said. "I'll probably be making a phone call here in a little while and probably be getting our attorney involved in it a little bit."
Vandiver said he wishes the county would have been involved more
"Would I have liked for that to happen?" Vandiver asked. "Yes, I would've liked for it to be up front, because it's going to be out in our district, our people will be using it. But that's not what happened."
Vandiver said since this is an agreement between Breland Companies and the businesses, he's not sure if anything can be done.
Copyright 2021 WAFF. All rights reserved.