Suspects wanted for burglary in multiple states arrested in DeKalb County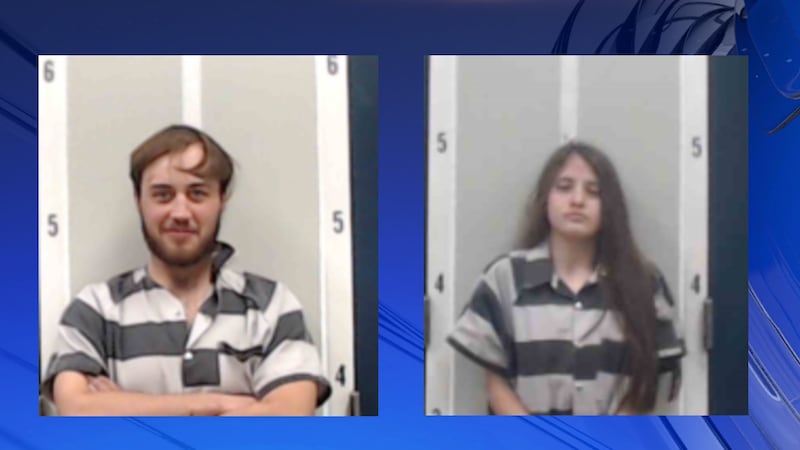 Updated: Dec. 23, 2020 at 4:25 PM CST
DEKALB COUNTY, Ala. (WAFF) - Two people led authorities on quite a hunt this month after burglarizing multiple homes throughout north Alabama.
Kathryn Smith, 19 of Cleveland, TN, and Tristan Grider, 20 of Cleveland, TN, were arrested in DeKalb County for a string of theft and burglaries occurring in three different states within the past year.
The Alabama investigation began on Dec. 14th when the Mentone Police Department received a call about a gold vehicle and two suspicious subjects pulling into a driveway. It was reported that the male stole a package from the front porch of a house on AL 117.
Later on Dec. 18th, Mentone PD received a report about a burglary on Road 1941. Homeowners reported guns, TVs and more items being stolen during the burglary.
That's when Mentone began extra patrol and requested extra pratol from the DeKalb County Sheriff's Office as well.
On Dec. 19th a Mentone officer reportedly found some items from one of the burglaries at a popular pull off spot on County Road 89.
Then on Dec. 21st, Mentone PD got another call about a burglary, only this time it was still in progress.
Officers say they got the call around 11:30 a.m. about a burglary happening on County Road 89. When officers arrived on the scene, a gold vehicle was backed up to the front door of the house. Similar to the gold car they had previously received a tip about.
Officers say that is when the two suspects fled out the back door and into nearby woods.
Mentone PD once again called the DeKalb County Sheriff's Office, DeKalb County Investigators, ALEA and Valley Head Police Department for assistance.
While officers, deputies and state troopers were searching the area, DeSoto Rescue Squad launched a drone to assist in the search.
When the subjects fled, they left their vehicle, two cell phones and a wallet with a Tennessee driver's license belonging to Smith. Items from a separate burglary were also found in the vehicle.
Later that day, someone notified two suspicious people were dropped off at a gas station in Hammondville. But before deputies could arrive to the scene, the couple had already fled.
The witness provided a description of the two, which matched a description of the subjects, and also a description of the vehicle that picked them up.
Authorities then notified a lookout.
When a Henagar fire fighter spotted the vehicle everyone was looking for, he notified the authorities and began to follow the vehicle to a residence in Jackson County.
Multiple crews arrived on the scene when they found and arrested Smith and Grider.
Kathryn Smith was charged with burglary in the 3rd degree, theft of property in the 3rd degree, theft of property in the 2nd degree and criminal mischief in the 3rd degree.
Tristan Grider was charged with burglary in the 3rd degree, obstructing government operations, theft of property in the 2nd degree and criminal mischief in the 3rd degree.
Authorities say Grider is also wanted out of Bradley County, TN, and is believed to have fled the state to escape prosecution.
Additionally, a third subject has been identified in assisting in the burglaries and warrants have been issued. This subject is believed to be in Bradley County Tennessee.
DeKalb County Sheriff Nick Welden thanked all the first responders and teams who helped with the case.
Copyright 2020 WAFF. All rights reserved.