Battle wins another term as mayor, Culver, Meredith head to run-off
Published: Aug. 26, 2020 at 5:46 AM CDT
HUNTSVILLE, Ala. (WAFF) - Tommy Battle had no problems winning another term in Huntsville's top office. He cruised to a fourth term over Andrew Woloszyn, Jackie Reed and Maurice Shingleton, Jr. Battle took 78% of the vote.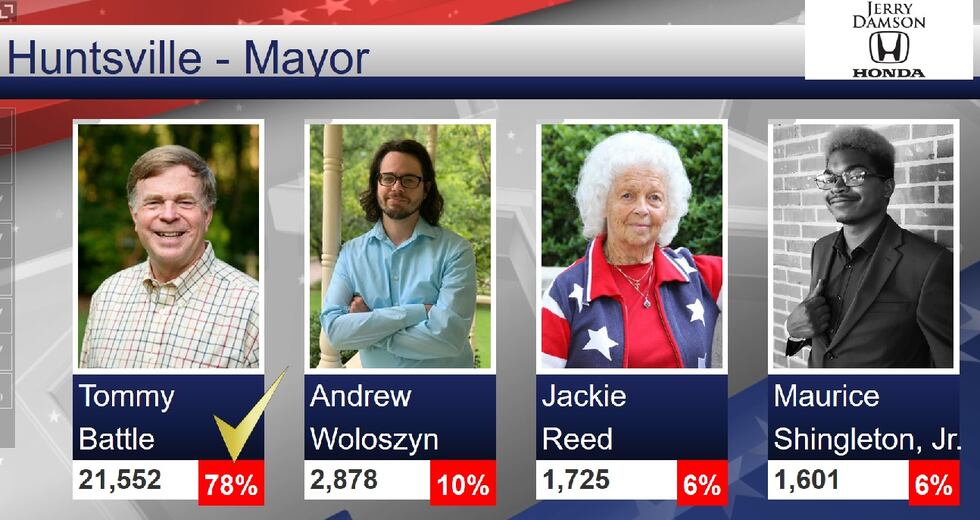 "We have worked over the past 12 years to have every segment of what this community needs - north, south, east and west - so we can bring it together." Battle told WAFF 48 after his victory Tuesday night. "The thing I would love to see is to make sure every section of the city shares in the success we see in Huntsville."
Battle thanked the crowd and mentioned his thoughts were with his wife, Eula, who is undergoing cancer treatment and was unable to attend Tuesday's celebration.
"It's a very humbling experience to have people validate what you're doing" Battle said. "We started with a plan 12 years ago to bring One Huntsville together, make sure every part of the city had new schools, every part of the city had new parks, had jobs, and we've been able to do that."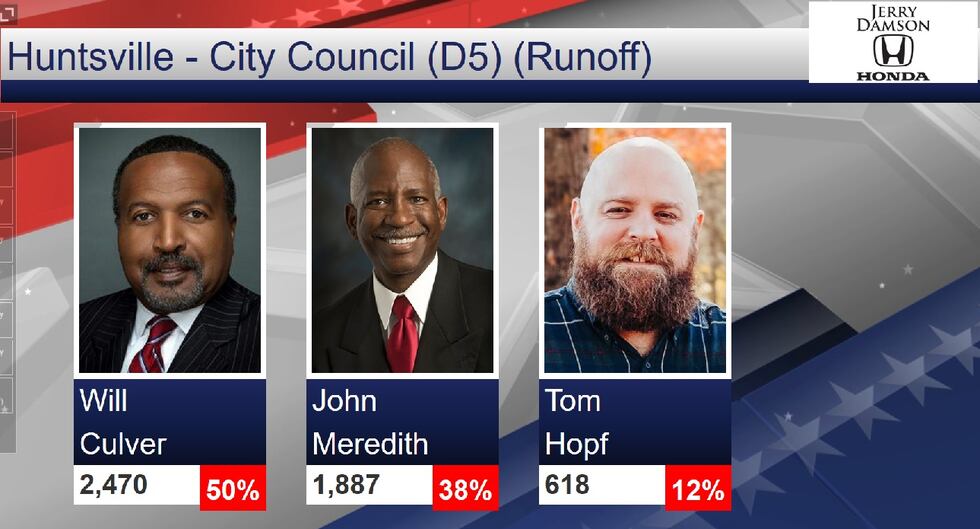 The Huntsville City Council had two of it's five seats up for grabs. In District 1, Devyn Keith had no problem winning a second term. He took 64% of the vote over two challengers. In District 5, a very different story. Will Culver is seeking a fourth term, but will have to win another election if he's to hold his seat. Culver came just about a dozen votes short of winning the race outright. Instead, he'll have to go to an October 6th runoff against John Meredith.
Copyright 2020 WAFF. All rights reserved.