Local Handel's franchise suspended over owner's racial slurs from 2015
Published: Jun. 16, 2020 at 10:15 PM CDT
HUNTSVILLE, Ala. (WAFF) - The Handel's corporate office is suspending operations at its Madison County location and determining next steps. They say they do not tolerate expressions of racism or discrimination in any form.
The corporate office posted a note Tuesday evening saying the Huntsville location is suspected.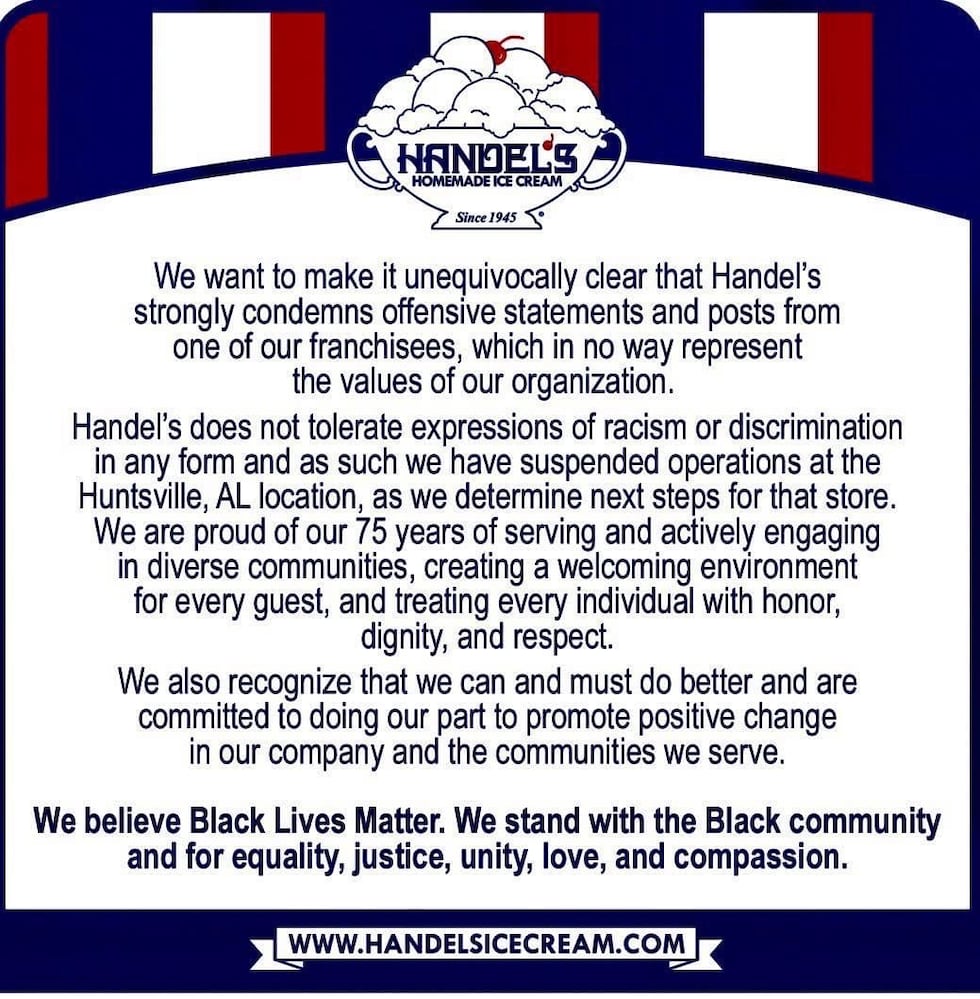 A Madison County business owner is under fire for a social media post he made five years ago.
In 2015, Rick Jarrell, the franchise owner of Handel's Ice Cream, on Highway 72 in Huntsville, posted racial slurs on Facebook about growing up in Birmingham in the 1950′s. Because of that post he has temporarily closed shop.
Tuesday people stopping by the ice cream shop called him a coward for not coming forward and owning up to his remarks.
On a typical warm June afternoon, the Handel's parking lot would be filled with eager customers ready to enjoy some homemade ice cream. But not on Tuesday. Instead of sweet treats these customers are looking for answers. "I was just coming to speak with him and see, let him clear the air and try to at least move the conversation forward," said Quinton Anderson. Anderson was greeted with a handwritten note notifying him Handel's was closed. "I really do think he didn't want to speak. He didn't want to deal with any of the issues that comes with his words."
The business is closed a day after an old Facebook post allegedly written by franchise owner Rick Jarrell resurfaced. In the post, Jarrell writes about growing up in Birmingham in the 1950s. He references the N-word seven times, along with a list of other racial slurs. Jarrell writes he has friends of all genetic and ethnic backgrounds and finishes with, "P.S If you happen to be a follower of Radical Islam, I will chase you to the gates of hell and bring down on you the wrath of my God. Except for that, welcome to my home."
Employees shared a text message Jarrell sent early Tuesday letting them know the store was closed for the day.
"All I ask is that you read the entire post. It reflects life in Birmingham in the 1950's and 1960's. I was never raised to be a racist and that is what the post says. I have black nephews, black cousins, and my daughter's boyfriend is black. This whole ordeal was started by a former employee (who was fired). Look at my actions. Look at my life. Read the entire post."
"In an old Facebook post of mine, I used some inappropriate and hurtful language to describe African-Americans and other minorities. I sincerely apologize for my word choice. It wasn't my intent to be insensitive, but looking back, I see that I was and for that I am deeply sorry."
"The store will be closed today. Everyone scheduled to work today will be paid for their full shift," the text was signed Rick Jarrell.
In a Facebook message posted late Monday, the company responded:
"We would like to apologize for recent social media posts that have come to our attention. These views do not represent our brand, our employees, vendors, or franchise partners, and we are troubled by the offensive tone that these messages conveyed. Handel's Ice Cream has been serving generations for 75 years and we are proud of the relationships we have built in the communities that we serve. We are disappointed that we need to address this situation, but we will not ignore it nor condone it. Our mission continues to be one of exceeding expectations while serving the best ice cream on the planet."
Copyright 2020 WAFF. All rights reserved.