Highlighting technology geared at preventing hot car tragedies
Doctors address dangers of leaving kids and pets in a vehicle
Updated: Aug. 1, 2019 at 6:21 PM CDT
HUNTSVILLE, Ala. (WAFF) - Alarming cases of young children being left in hot cars across north Alabama this summer have prompted warnings from law enforcement and even led to several arrests.
There's a big push nationwide for technology to prevent it from happening. Some car companies like KIA and Hyundai already have a warning system in some models of their vehicles.
There are sensors in the KIA Telluride that detect movement. Andrew Harris at University KIA explained how the Rear Occupant Alert works.
"When you get out of your vehicle, the center cluster will show an alert saying to check your back seat. If you happen to miss that and get out of your car and lock your vehicle, those sensors will detect movement for up to 24 hours," Harris said.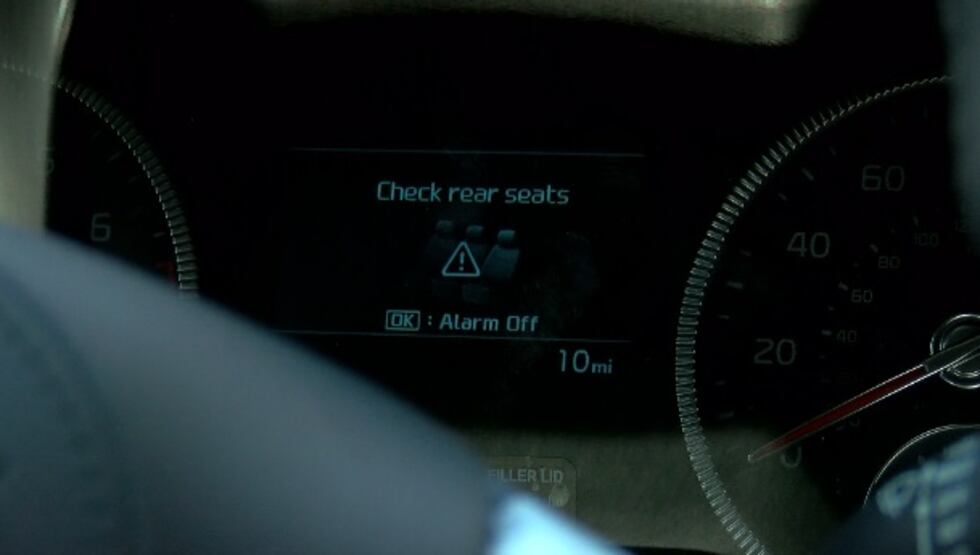 It will also set the car alarm off to alert you. If your vehicle is connected to your cell phone for your KIA Access app, it'll send you a push notification, a text message and an email saying the sensors detected movement and to check your back seat.
The technology is geared at saving lives.
In Huntsville this week, police say a man intentionally left his toddler in a hot car for an hour while he shoplifted from Walmart. Officers smashed the video to get the child out. The same thing happened in Scottsboro when an 8-month-old baby was rescued from a hot car.
Dr. Tim Howard, family practice physician, stressed the dangers.
"If you have a car that's completely closed or even a window cracked, within 10 minutes, it's going to go up about 20 degrees in the car. So if it's 90 degrees, it's 110 in the car. Unfortunately, young children don't have their system developed, like their ability to sweat, as well as an adult so it makes them at really high risk for heat related injuries," he stated.
KidsAndCars.org would like all vehicles to come equipped with a system that would alert a driver if a child has been left in the vehicle. The Hot Cars Act has been recently introduced and would require technology in call vehicles to prevent heatstroke tragedies.
"This is something that will prevent a little mistake from becoming a big mistake. This prevents you from accidentally doing that with a busy schedule," Harris said.
Experts suggest setting an alarm on your phone to remind you that your child or pet is in the car with you.
They also say leaving your child's favorite stuffed animal on the front passenger seat with you is a good idea to serve as a reminder that they're in the back seat.
Copyright 2019 WAFF. All rights reserved.