New recycling carts being delivered across Madison County
Updated: Jul. 9, 2019 at 5:18 PM CDT
HUNTSVILLE, Ala. (WAFF) - Madison County is going greener than ever before with an expanded service area for recycling and new carts for residents to use.
The Recycling Alliance of North Alabama (RANA) started the delivery of the new curbside recycling carts to those who have signed up for the program.
Deliveries are scheduled over the next several weeks. The big carts replace the old 18-gallon bins.
Each cart will have a flyer attached that will show the residents which day of the month their pickup will be.
"Those who have registered for carts before June 28th should start seeing them being delivered this week. We started yesterday and over the next few weeks, folks will have their carts delivered so they'll be ready when they start recycling in August using the carts," explained Doc Holladay, Executive Director of the Solid Waste Disposal Authority, which is managing the program.
The newly expanded service area reaches all of Madison County, including Huntsville, Madison, Gurley, New Hope, Owens Cross Roads and Triana.
"You'll see the new 95 gallon carts coming out and we're doing away with the bins. July 31st is the last day that those 18 gallon bins will be serviced. After that, in order to have your recycling collected, you'll need to have it in a roll-out cart. You only get a cart if you sign up for the program," Holladay said.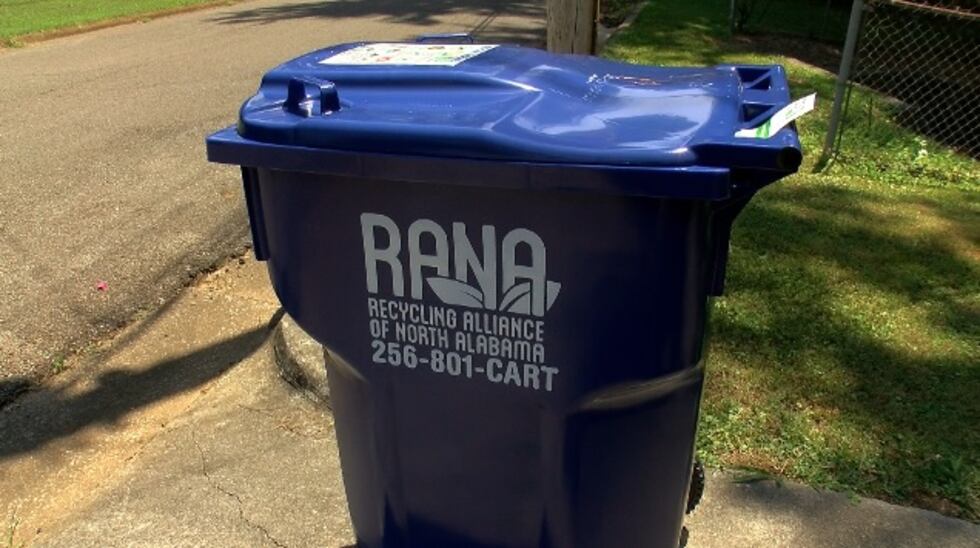 More than 53,000 households have already signed up and that number is growing. As residents see the new carts going out, Holladay anticipates more calls coming in. An additional 20,000 people are expected to take part in the free service.
Residents are asked to leave items loose inside the carts. Paper bags can be used for shredded paper, but no garbage bags or plastic bags.
Plastic bottles and paper products can go in, as well as metal and aluminum cans. No glass.
Rather than once a week collection, it will be once a month.
"People will have questions about just using once cart. We ask folks to start with one cart and get back to just placing the materials included in the curbside program in them. If over time, you find that one cart is not sufficient, we'll make arrangements to have additional carts," Holladay stated.
Previously, 105,000 households had access to recycling. Now, 125,000 have access in Huntsville, Madison and Madison County. That includes annexed portions of Limestone County.
Drivers will be using the latest technology, including an in-cab mapping system with turn by turn directions.
Here's other important information:
· Each cart will have a flyer attached that will show the residents which day of the month their pickup will be. Carts need to be at the curb by 7 a.m. on pickup day.
· From the day your cart is delivered until your first pickup day, you can begin placing recyclables in your cart.
· If residents are unsure of their pickup day, they can visit recycling-alliance.com or call (256) 801-CART.
· A downloadable annual calendar is available at recycling-alliance.com.
· Each cart will also feature an in-mold label on the top of the lid that will say what you can and cannot recycle in the carts.
· If you have an old 18-gallon bin that you would like to recycle, please leave it on the curb on your first cart pickup date. If you would like to keep your old bin, you can do so.
"We are excited to be kicking off the first phase of the new curbside recycling program and equally excited that so many residents have signed up," said Holladay. "We understand this is a change from the way our residents have recycled for the past 29 years. This new program is more user-friendly and sustainable for all."
If residents did not sign up to receive a cart by June 28 and wish to participate in the new, free program, they can still do so by visiting recycling-alliance.com or by calling (256) 801-CART.
RANA won't take used motor oil or household batteries curbside.
To dispose of those items, you will have to go to the Household Hazardous Waste Facility. It's open Monday – Friday, 7 a.m. to 5 p.m. and located at 1055 A Cleaner Way, Huntsville, AL 35805. (*drive-through facility, open rain or shine.)
Copyright 2019 WAFF. All rights reserved.