Woman's yearslong quest to find her birth mother leads her to north Alabama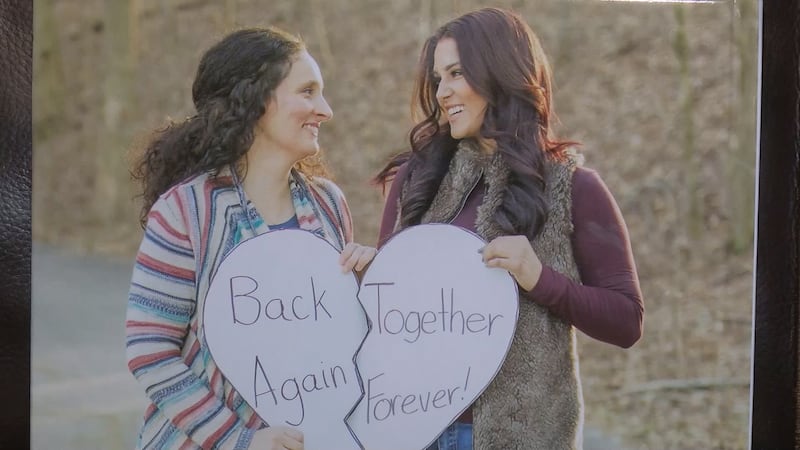 Updated: Apr. 5, 2019 at 10:42 PM CDT
ATHENS, AL (WAFF) - A woman was on a quest to find her birth mother. And that search lead her to a woman in Athens, Alabama.
"Very scary, lost, not sure what to do. I just, I almost felt paralyzed a little bit when I think about it," Paula Morey said.
In the summer of 1993, Morey was 15 and pregnant. The father and her boyfriend of one year was leaving soon to join the military.
"I will be honest that we had scheduled to have an abortion and he left to go to boot camp and knew that was kind of what the plan was. I woke up that Saturday morning and knew that I just couldn't do that," Morey said.
Morey had only two options: keep the baby or put the baby up for adoption. So as to not bring embarrassment to her family, she moved from Louisiana to Plano, Texas where she lived with a foster family until the baby arrived. She ultimately made the difficult decision to put her daughter up for adoption.
"I wanted her to have a mom and dad who were going to be together and who were going to be able to give 110 percent of their attention and love to her," she said. "I didn't have that. And I knew that I wasn't going to marry."
After giving birth, Morey spent three days with the baby girl she named Brittney. During that time, Morey fed, changed and tried to squeeze a lifetime of lessons and love into those precious 72 hours with her baby girl.
"I was telling her about boys about periods. I just tried to squeeze it all in," she said.
When the time came to say goodbye, she wanted something to give her baby girl, just one last expression of her love.
"I wrote her a letter, and my social worker helped me really put that first letter that was directed to her about why I was making that decision."
Morey dressed Brittney in a little blue dress she picked out then tucked her and a tiny bunny in a blanket she made for her.
"I had to accept back then 24 years ago that there was a possibility that I'd never see her again. But in my heart, I believed I would see her someday whether here on earth or in heaven," said Morey.
Part of the agreement was that Morey could communicate with baby Brittney's adoptive parents through letters for one year.
"They would call me "dear birth mom" or "sister," you know, and then they would tell me all about what's going on with her growth, how she's getting all chubby and nice and chunky, and her personality and the things she like to do and they would send me pictures. It was wonderful."
That chubby little girl, now named Tosha Ramirez, has only happy memories of her childhood.
"My parents, they were very loving. So we were always with my family," said Ramirez. Growing up she always knew she was adopted.
"My parents had a little way of telling me as a baby growing up. They always told me a story about a king and a queen who wanted a princess," said Ramirez. "Once I could fully understand, that whenever they said that princess is you and mommy and daddy came and picked you up."
Ramirez says her parents always stressed how much her birth mother loved her.
"They expressed how much my birth mother loved me like what she wanted for me and the sacrifices that she made for me to have, you know, the life that she wanted me to have. And so they were always encouraging of me finding my birth parents. Any time I had questions they were very open about it," she said.
Ramirez says that blanket and bunny her birth mother gave her were always with her.
"Growing up I always had my blanket. They were like, 'Your birth mom made this for you.' I had my bunny. I had just these little items around the house, you know, that I had from my birth mother and, you know, I always saw the pictures because my mom, Joyce, always scrapbooked."
When Ramirez was in junior high school she was looking through her baby book and came across some letters. They were from her birth mother. She read them all and through those letters, she was able to get to know her birth mother.
"When my mom passed I wanted to know where I came from and I wanted to know. I mean, I always knew who I was. I always knew where I belonged, but I wanted to know like where I came from, who I came from," said Ramirez. "It became an obsession and I just I didn't want to stop."
The search would neither be easy nor quick. Ramirez eventually located the hospital where she was born, which led to her narrowing down high schools near the hospital. She posted a message on one class' Facebook page and was flooded with messages, so many, in fact, it took her two years to read the right one from a former classmate of her birth mother.
"And she messaged me. She was like, 'I think her name was Pam or Paula.' She said yes. She said her name. And so I had her name in my inbox for two years," Ramirez said.
Around the same time, Ramirez says she took an ancestry DNA test. Two days after she got the results back she was contacted by a woman who said she was looking for her parents. During the next few months, they would chat online with Ramirez slowly revealing information she knew about her birth father. One day the woman asked if they could talk
"She's like, 'OK, how do you pronounce your name?' I said, 'Tosha.' And she goes, 'I'm your grandmother,' and I about, I just honestly I just stood there and just looked at the phone. I looked at my dad and looked at my phone and with him for about a good minute or two I just I have no idea what to do. I was shocked."
Shortly thereafter, Ramirez was speaking with her birth father, who immediately contacted Morey .
"He called me and he said, 'I found Britney,' and I'm like, 'Oh, like are you serious? We've already gone through this before. I don't want that again.' And he said, 'This is really her.'"
Even as Morey and Ramirez spoke on the phone, Morey remained skeptical. Could this really be her Brittney? The little black-haired girl she gave up 24 years ago?
"She read to me the first letter that I ever wrote, which was the letter to her of why I was making my decision to place her for adoption. And it was like yesterday as she's reading those words, I'm like oh my gosh this is what I said to her. This is her."
When asked about said hearing her voice for the first time, she said, "Oh my God, it was amazing. I remember it like yesterday." Two weeks later, Ramirez was on a plane bound for Huntsville International Airport.
A friend had been helping Ramirez document the search for her parents was right by her side to capture the moment she had waited a lifetime to see.
"As soon as I saw her I started giggling and I was walking and I eventually just ran and you just see me just go into her, which I didn't think was gonna happen cause I'm awkward. I like to do the whole side hug thing. And I just remember just digging myself into her and not wanting to let go," she said.
"I mean I remember feeling almost every bone in her back because I was hugging her .her arms but I could feel her bones because I was just like not wanting to let go and smelling her again. I did a lot of smelling when she was a baby," said Morey.
Morey's husband, her oldest son and two younger children were also waiting to meet their big sister. For all of them, everything just fell into place.
"I never felt like it was my first time. Yes, it was my first time meeting. But it's like we picked right back up. It was natural it was. It was just like we've known each other forever," she said.
Now that they have found one another, Morey and Ramirez plan to hold onto one another forever. If Morey ever had any doubt that she made the right decision giving up her beautiful baby girl, she doesn't have to wonder anymore.
"You made the right decision and you listened to God and, as hard as that can be like you, not many people can do that. And as much as I would love to know what it would be like to be raised by my birth mother, it's like she made the right choice and I would never ask her to go back and to basically not listen to God because she knew," Ramirez said.
Copyright 2019 WAFF. All rights reserved.