Alexander Shunnarah shares the story behind his success in Alabama
Talks billboards, advertising budget, verdicts, hobbies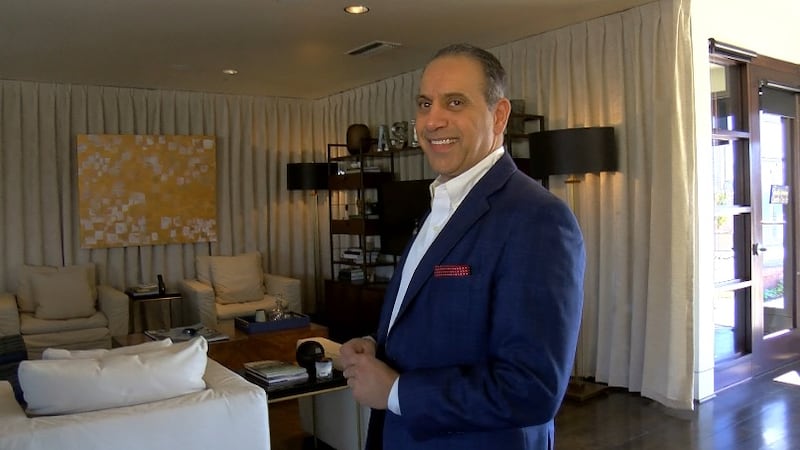 Published: Mar. 21, 2019 at 10:38 PM CDT
BIRMINGHAM, AL (WAFF) -Anywhere you go in Alabama, you see his face- it's everywhere! Attorney Alexander Shunnarah has become an advertising icon.
You know him from his commercials. And you pass by his billboards every day. From rural roads to heavily traveled interstates- his name and his face are at every turn.
It's made him one of the most famous faces in the state. And his reach continues to grow across the southeast.
But what's he really like? The answer is personable, funny and driven.
At his corporate headquarters in Downtown Birmingham, he gave a tour of the penthouse that is his office. It has a terrace with great views of the city and all the amenities Shunnarah needs to meet with clients, discuss cases with his attorneys and host events.
And it's clear that Shunnarah cares about his team.
"This is a wonderful staff that we're blessed to have here and they do a wonderful job," Shunnarah said as he walked around the building, introducing camera crews to everyone.
He relies heavily on Sara Williams, his managing attorney.
"She is the pillar of the firm," he said. "It would be very difficult to do anything in this firm if I didn't have the best attorney in the southeast at my side every day."
His branding his everywhere. There's Shunnarah hot sauce on the front counter. Next to them are tiny Shunnarah billboards.
"We started making them and giving them out as gifts," he stated.
In the front atrium, there's a giant black leather couch in the shape of an "S."
"We designed the couch into an S for Shunnarah. It's a cool piece that a lot of people talk about," he explained.
Shunnarah was born and raised in Birmingham. He's married to his wife of 14 years and they have three daughters, ages 9,11 and 13. He went to high school and college in Birmingham and he has been practicing law for nearly two decades in the Birmingham area.
"We are a personal injury, a plaintiff's firm. We've been very blessed over the past 20 years. We are now in five states with over 70 lawyers and a couple hundred employees. We have 15,000 cases and 17 office locations," Shunnarah said.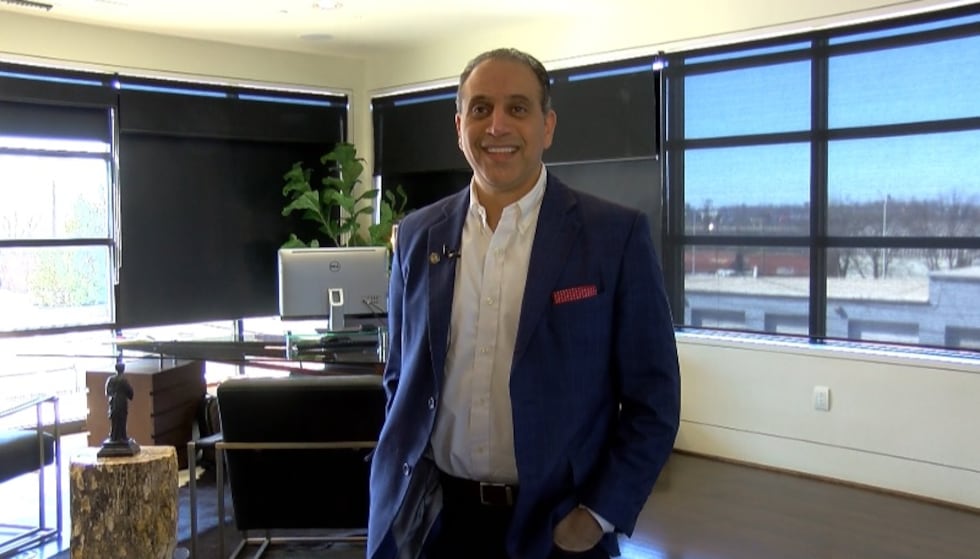 He started the firm by himself and it's grown across the southeast. Most of their cases come from Alabama, but the firm is also in Georgia, Florida, Mississippi and Tennessee.
"I do handle cases myself. I mostly run the mass torts in the medical device department. I'm involved in a lot of the more catastrophic cases. I'm here, I'm hands-on every day. I have an incredible work ethic. I'm here seven days a week. I'm available to all of my attorneys constantly," Shunnarah stated.
He regularly travels to all of his other offices and has speaking engagements all over the country.
When he opened the law firm in 2001, Shunnarah was under the impression that since he lived in Birmingham his whole life, that he could have a successful practice based on the people he knew.
"I quickly learned after a year or so that my circle of friends, which was probably a couple thousand people from church and schools that I went to, wasn't going to sustain a practice. So I got into the idea that I needed to start marketing myself. And once I started doing that, I saw that the phone was ringing more and more," Shunnarah revealed.
He knew he wanted to be in Alabama for the rest of his life and he wanted to continue to get his name out there.
"Since I practice personal injury law, I wanted every single person in the state of Alabama, if it was possible, to at least know my name and know that it was an option if they were ever in an accident or needed a good attorney. So I started out on that mission," Shunnarah said.
He didn't have a lot of funds in the beginning, so he started small and it's evolved from there, from phone books, to TV and radio and beyond.
"Of course, we're well known for our billboards. Digital advertising is where we're headed now with the internet. You have to constantly stay in front of people and let them know what you do and what type of services you provide," Shunnarah explained.
Presently, he has about 2,500 billboards in the southeast. He owns a handful of them, and leases almost all of them from Lamar Advertising.
"We spend over $1 million a month on advertising. I think our budget this year is about $18 million. Advertising does work, but just like any other industry, you have to be careful and you have to have the infrastructure to handle that type of advertising and marketing to be able to service people if they do call you," Shunnarah stated.
And wherever Shunnarah goes, he gets recognized. He enjoys the interactions he gets to have with others.
"Every year, it happens more and more. It's nice. It's flattering. People come up and ask for selfies and pictures. I spend as much time with them as I can because I genuinely love people," he said.
His slogan about being a man for the people of Alabama is something Shunnarah says he takes very seriously, representing everyday people who have to go up against big companies in the courtroom.
His firm prides itself on standing up for the common man against corporations, providing the skills to interpret the law and hold companies accountable.
"We want to balance the field and make sure that companies making profit on consumer goods are doing the right thing and making sure their products are safe before putting them out in commerce," Shunnarah explained.
As for the testimonials and big money you see him getting for clients in his ads- they are real outcomes. The firm consistently recovers substantial settlements in lawsuits involving personal injury auto accidents, truck accidents, motorcycle accidents, wrongful death, social security disability, pharmaceutical litigation, drug recalls, medical devices, and mass torts,
"If you see any kind of advertising with any kind of testimonial, those are cases that we've either resolved or got a verdict. I'm proud to say that in the last five years, we are the law firm in Alabama that's tried the most cases and received the most verdicts," Shunnarah said.\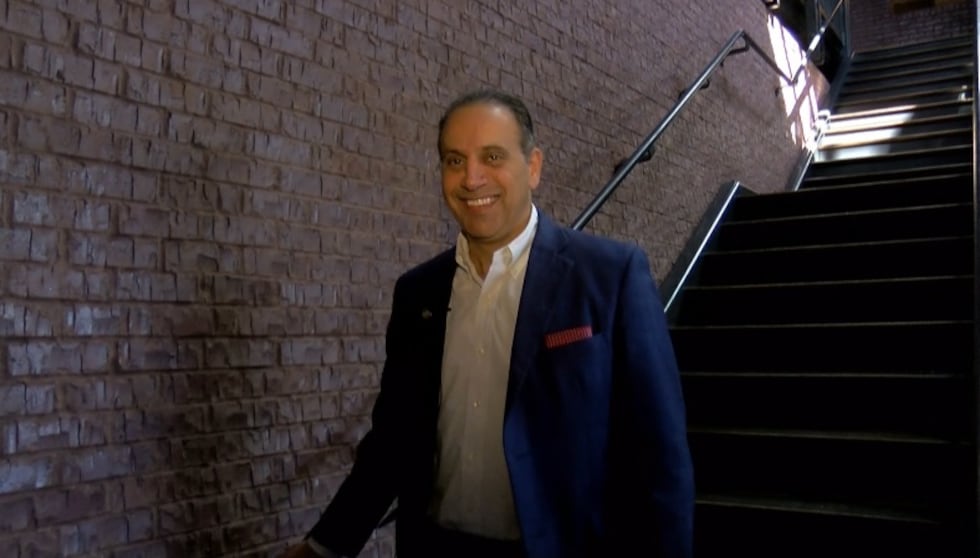 That includes the $12 million verdict you see in many of the commercial spots and on billboards.
"It was a very difficult case that we worked on for a number of years," Shunnarah added.
In December 2017, the firm secured the $12 million jury verdict against MAX Transit – Birmingham-Jefferson County Transit Authority and its driver. The verdict is the result of a bus crash in Fairfield, Alabama on February 9, 2015. With more than 20 passengers on a MAX Transit bus route, the bus driver lost consciousness, causing the bus to overturn and land in a ravine. The lawsuit involved 15 of the crash victims, with the majority of which were represented by Alexander Shunnarah Personal Injury Attorneys, P.C. attorneys Brandon Bishop and Sara Williams.
As part of their verdict, the jury also assessed $6 million in punitive damages.
The injuries of the passengers ranged in severity, with the most severe injury resulting in Charlyse Williams losing her leg.
Shunnarah has a Madison County office with a team of attorneys near Huntsville Hospital.
"Huntsville is our second largest market. We represent thousands of people in Huntsville. We love Madison County and we like working there." Shunnarah said.
As for his hobbies, Shunnarah works out religiously.
"I go to a gym six or seven nights a week. If I go five times, I don't feel like that's enough. That's the time I need. I need an hour or two to myself every night to decompress. I mix it up. Sometimes I hit a punching bag, or play basketball or run on the treadmill. Mostly I like to lift weights. It's just a coping mechanism after working all day. Exercise is the healthiest way to cope," he revealed.
As for the Shunnarah memes that are so popular on social media, he gets a laugh out of them. His team has even started creating their own.
"It's fun and interesting. We look to do them now with things that are timely. We try to stay away from anything that's controversial. We try to just put a twist of humor on them," Shunnarah said. "They get a lot of likes and it's a way to break the monotony during the day on social media. People get a good chuckle with it. At the same time, it is advertising. It's branding. People continue to see your name. And the great thing is that it doesn't cost anything."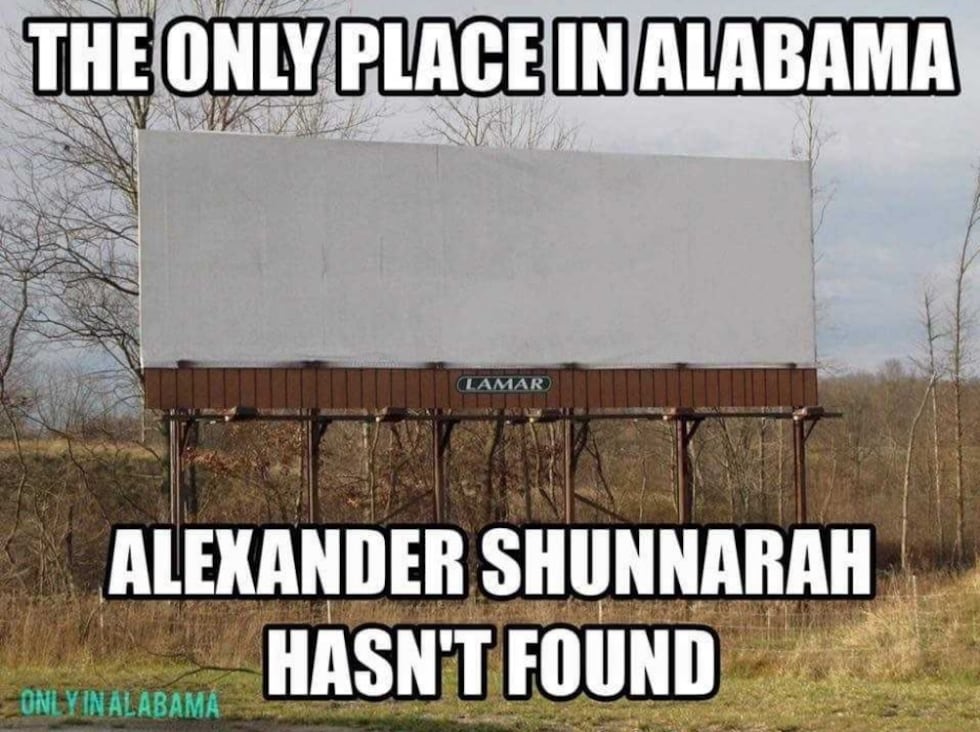 It's clear that Alexander Shunnarah, the marketing maverick and hardworking attorney, loves what he does and surrounds himself with people who share his mission.
"I'm a man for the people. That's what life is about, helping people," he added.
Copyright 2019 WAFF. All rights reserved.