River cruises coming to Lake Guntersville in April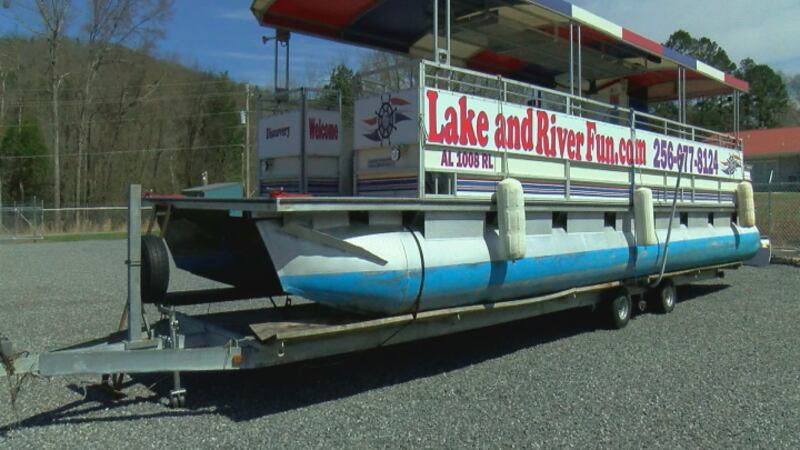 Updated: Mar. 15, 2019 at 8:36 PM CDT
GUNTERSVILLE, AL (WAFF) - Something new is coming to Marshall County this summer for lake lovers.
A Guntersville couple is bringing river cruises to Lake Guntersville.
They're wanting to start off slow to see how things go. The captain, Mark Mills, is used to driving pleasure boats that carry up to 500 people. Well, they're starting off with around 20 people."
Mills and his first mate, Bren Owens are putting the final touches on this large pontoon cruiser that will soon be sailing up and down the Tennessee River.
Mills served as a boat captain for large pleasure craft in Chicago and more recently in Chattanooga before making the move to Guntersville.
Mills says he found the boat in nearby Tennessee which was doing a similar business.
Mills says he's looking forward with his first mate to bringing a good time to many people.
"I met Bren and she's from here and when she brought me here the lake is so beautiful and it's such a great place and there was no boat here and we both said why? So, we decided to make it our mission to bring a boat so everybody can enjoy this beautiful lake," said Lake and River Fun Captain Mark Mills.
Mills says they'll kick off the river trips next month.
They'll do both river cruises and charters.
It kicks off with a big launch April 13 from Civitan Park in Guntersville with fun cruises from 9 a.m. to 5 p.m.
Copyright 2019 WAFF. All rights reserved.