Potential delays could further slow Highway 72 widening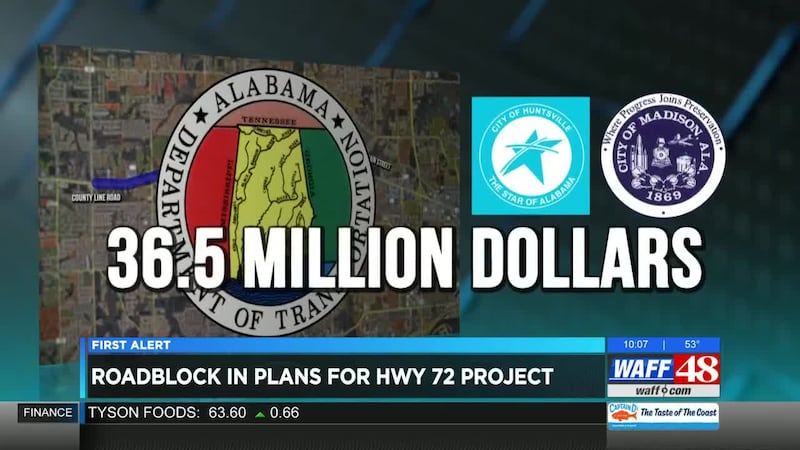 Updated: Feb. 21, 2019 at 12:28 PM CST
HUNTSVILLE, AL (WAFF) - Plans are underway to expand I-565. It's coming, but we'll all be waiting to the year 2040 to see it happen.
Plus, our local and state leaders still have to figure how to pay for it.
Meanwhile, a previously funded highway project may also soon be hit with delays.
A stipulation within a plan to widen Highway 72 could put a roadblock in the timeline.
A year ago, we told you about the plan to widen Highway 72 and told you that officials were in the design phase of the project.
A year later − they are still in the design phase of the project. Now, a request from the federal government could slow the project down even more.
Here's the simple truth: Highway 72 is over the capacity it was originally built for.
The original plan from a year ago was to widen Highway 72 right at that bottle neck at Providence Main in Huntsville all the way to County Line Road in Madison when the road goes from three lanes in each direction down to just two.
Then the Federal Highway Administration stepped in with a request to add a 10-foot path for biking or walking on an already packed road.
"It really eats into our funding because that is going to inflate the cost of right of way acquisition and utility relocation so what we are looking at right now is possibly being able to get out to Hughes road with the funding that we have," said Seth Burkett with the Alabama Department of Transportation.
So installing a multi-use path would only give drivers relief on congestion through Hughes Road with the funding already available.
"And that's why we've asked the Federal Highway Administration to reconsider that requirement," said Burkett.
Most of the 36.5 million already set aside for this project comes from the FHA, which gives them a big "say so" on how it's spent.
Officials with FHA, ALDOT, the City of Huntsville and Madison have all been going back on forth on this issue, which in turn slows the project further.
What's not slowing down is how many cars hit Highway 72 every day.
Best case scenario, construction would start by 2022. Of course that hinges on what the FHA decides and more input from you.
Copyright 2019 WAFF. All rights reserved.