Huntsville residents concerned over heavy rain
Several people in Huntsville woke up to downed trees in their yards and growing concerns over all of the rain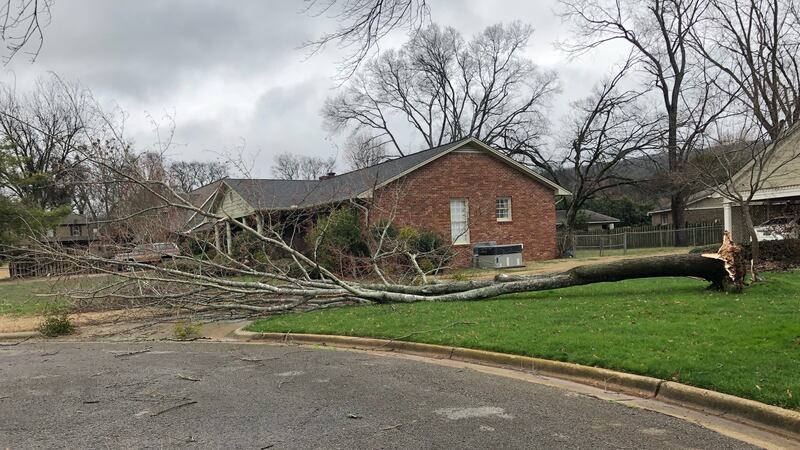 Published: Feb. 20, 2019 at 5:52 PM CST
|
Updated: Feb. 20, 2019 at 5:53 PM CST
HUNTSVILLE, AL (WAFF) - Loud rumbling Tuesday evening kept Kyle Jess awake for several hours at her Locust Circle home near downtown Huntsville.
"I had to put on some noise, so that I could sleep. The house felt like it was shaking. I could hear branches hitting my house. and so it was very worrisome," said Jess.
This morning her neighbor called to tell Jess about this large uprooted tree in her driveway. About 50 yards away, more damage to the roof of this shed where another tree fell. Jess fears it may not be the last.
"I am very worried about the water that's going to come in between our homes especially. We have some trees in the backyard that look very vulnerable," said Jess.
Just a few blocks away two more trees down at this home on Tollgate Rd. The person living here was not at home when it happened but a neighbor was.
"Wind was blowing really strong and this huge tree just came down and landed next door on the neighbors' roof," said Stephen Ware.
One tree braced the fall of another. Fortunately, no one was hurt.
"I'm glad it didn't come down here. Some of the branches or anything, you know," added Ware.
Meanwhile, Jess wants to see a solution. She's asked the city to pave a concerning flood area near her home, but there is a problem.
"Some people have actually put their fences over the easement in the backyard. And so they won't pave back there because of that," added Jess.
For now, Jess says they're just waiting it out.
Copyright 2019 WAFF. All rights reserved.