Madison County Commission Chairman rescues man with no pulse from wrecked vehicle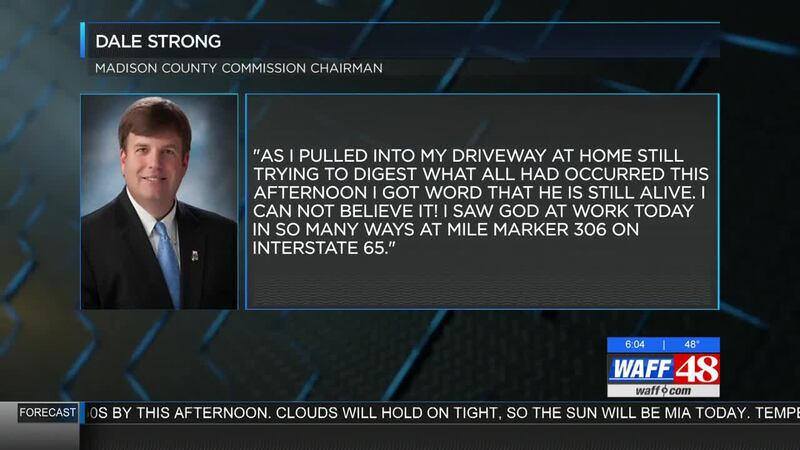 Updated: Feb. 3, 2019 at 8:51 AM CST
(WAFF) - A Madison County leader is receiving praise after rescuing a man from a wrecked vehicle on I-65 in Cullman County on Saturday.
Chairman Dale Strong posted the story on Facebook. He says he was traveling back home from a funeral in Birmingham Saturday afternoon when he noticed a vehicle on the side of the road. He went to check out the vehicle and found that it had actually flipped over.
Strong noticed an unconscious man was still inside and that gas was coming out of the vehicle. He called 911 and began working to rescue the man when he realized he had no pulse. A passerby pitched in to help Strong rescue the man.
Emergency crews arrived on scene and they defibrillated the man. He went into cardiac arrest before they able to get his pulse and heart rate back to normal.
Strong adds that he received word later in the day that the man was alive, however he tells WAFF that he still has a ways to go in his recovery.
In the statement on Facebook, Strong says, "I can not believe it! I saw God at work today in so many ways at mile marker 306 on Interstate 65."
Strong previously worked as an emergency responder in the Madison County area.
Copyright 2019 WAFF. All rights reserved.