Madison County law enforcement to serve as honor guard at Mobile police officer's funeral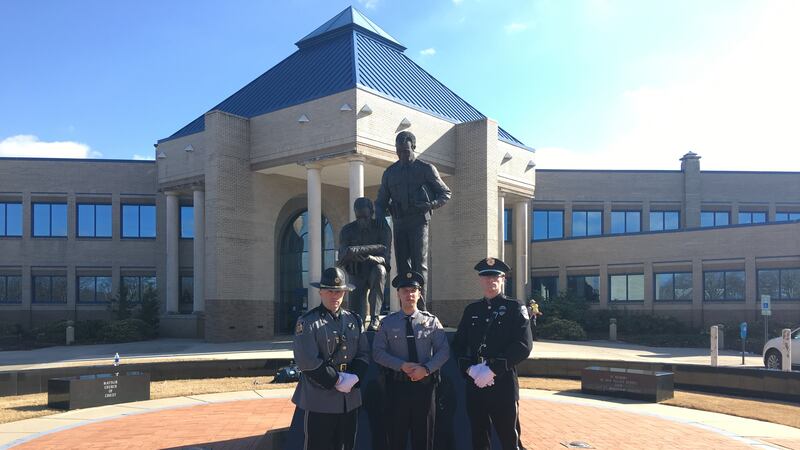 Updated: Jan. 24, 2019 at 9:03 PM CST
HUNTSVILLE, AL (WAFF) - On Thursday, law enforcement agencies from Madison County prepared to serve on the honor guard, attending Mobile police officer Sean Tuder's funeral services on Friday. These men are proud to honor a fellow officer.
Badges are once again draped for another fallen officer as deputies with the Madison County Sheriff's Office and officers with Huntsville and Madison police departments will serve on the honor guard at funeral services for Tuder. They are honored to join departments from across the country but say losing two officers from the state of Alabama is tough.
"We had just gotten back from officer (Wytasha) Carter's funeral in Birmingham and getting all your stuff put up and you hear about officer Tudor being killed in Mobile, and it is disheartening to know that it is happening," said Huntsville police officer Jeffery Franks.
"It really hit close to home. It really makes you want to give your family and extra hug, you know send that extra text message before you go to that call that could be potentially dangerous," added Madison County sheriff's deputy Josh Moseley.
All law enforcement agencies will attend the visitation.
"Meet each family member. It's already been said his wife wants us to come in and hug the family. So I said they are family to us. So we will be doing and treating them as such," said Madison County sheriff's deputy John Blakly.
Funeral and graveside service, followed by a procession with agencies from around the country.
"It's a big moment when an officer dies in the line of duty and it doesn't go unnoticed in the United States. Agencies from all over the United States go to honor that officer's sacrifice," added Lt. Donny Shaw with the Madison County Sheriff's Office.
Copyright 2019 WAFF. All rights reserved.