Margo rolls up her sleeves on National Clean Off Your Desk Day
A professional organizer comes in to help
Updated: Jan. 14, 2019 at 6:04 AM CST
HUNTSVILLE, AL (WAFF) - Did you know that the second Monday of January is "National Clean Off Your Desk Day"? It's an opportunity to start the new year with a fresh slate at the office.
Here at WAFF 48, there are more than a few desks that could use a professional organizer's help. So, we e-mailed one! Karen Wright from Life Simplified in Huntsville came to the newsroom to help our own Margo Gray clear off the mess that's been building on her desk since she first came to Huntsville years ago.
If you've been inspired to tackle your own workplace disaster zone, here are some tips from Karen to get you started:
#1. No space for non-essentials! No matter how big or small your desk is, you don't have room for nonessential items that do not contribute to your efficiency and productivity. In Margo's case, she had extra coffee mugs, water bottles and a giant purse. Karen suggests a basket nearby to store "grab & go" items.
#2. Don't make piles, make categories! Create a "vertical and visual" system, categorizing and storing papers in their own homes. In Margo's case, Karen suggests a better filing system for her story notes, court documents and research. Magazine files and binder clips will help with this.
#3. Keep it clean! Once you've cleaned off your desk, the battle is only half done. Now, you've got to keep it clean. Take two minutes at the end of your day to tidy up and put things in their new homes. Don't forget to throw away trash.
So what if you want to clean up something bigger than your desk? What if your entire house needs an overhaul? Call Karen at Life Simplified at (256) 316-1655 or visit their website and Facebook pages.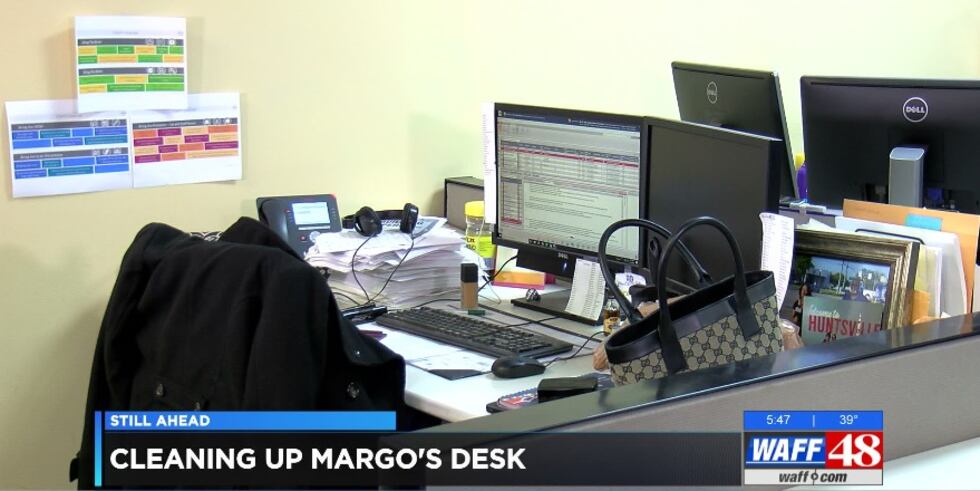 Copyright 2019 WAFF. All rights reserved.