Nick Saban says there is a cost to playoff expansion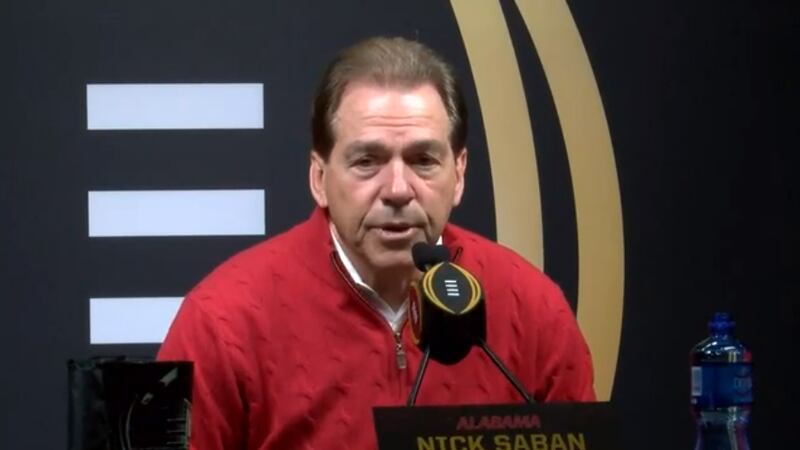 Updated: Jan. 5, 2019 at 3:09 PM CST
SANTA CLARA, CA (WAFF) - Alabama head football coach Nick Saban will lead his team to a National Championship appearance on Monday after defeating Oklahoma in the playoffs.
Clemson, who will be playing the Tide, routed playoff opponent Notre Dame to make it to Santa Clara. The game left many fans and media outlets with renewed talk of a expansion to the college football playoffs.
Coach Saban offered a warning during the Tide's media day appearance on Saturday − expanding the playoffs will come at a cost.
"My issue and concern is that bowl games have made college experiences unique for college athletes, and programs, over the years. I think the bigger the playoffs become, the less significance bowl games have," said Saban. "That used to be the unique thing about college football is a lot of people got a lot of positive self-gratification for having a good season by going to a bowl game and getting rewarded by getting to play another game against another good team."
Coach Saban, without bringing up any players by name, discussed the recent trend of student-athletes skipping out on bowl games ahead of the NFL Draft.
"Playing in the Sugar Bowl used to be a big thing. Used to be a really big thing," said Saban. "Now we have players that choose not to play in those games, because they're not in the playoffs. So, is that good for college football? I don't know. That's for everyone to answer for themselves. "
Coach Saban also added that adding more games to the season should come with an increased amount of scholarships to help teams deal with injuries.
"Right now, we have significant injuries that are affecting certain positions on our team. I'm sure most teams at this point would have the same," said Saban.
Copyright 2019 WAFF. All rights reserved.