2nd graders collect nearly 400 cans during Christmas food drive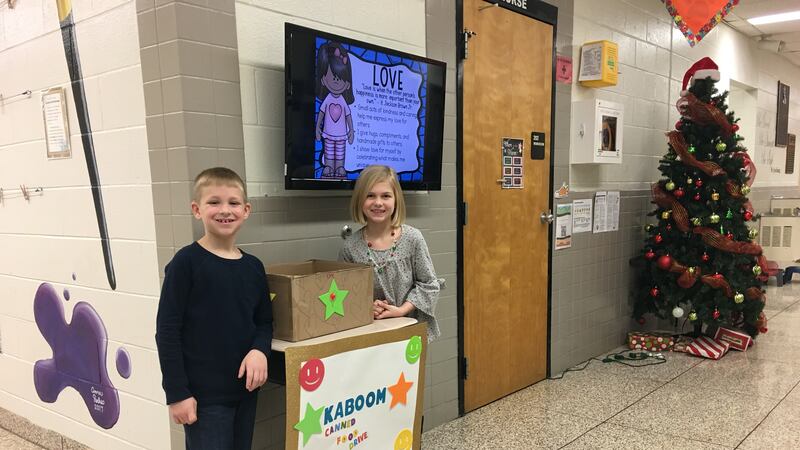 Updated: Dec. 20, 2018 at 7:17 AM CST
MADISON COUNTY, AL (WAFF) -Two 7-year-olds at an elementary school in Madison County have collected several hundred canned goods for the hungry. The two youngsters went to their teachers and insisted they donate food to help feed less fortunate people this Christmas.
"I just feel bad for people who don't have much food," said Avery Minskey, a second grader at Lynn Fanning Elementary School.
Minskey and her classmate, Kiptyn Patterson, wanted to do something to help hungry people this Christmas.
"At first I wanted to ask them, to people who don't have much food, to ask them what they're favorite food was. And Mama could cook them, but she thought maybe we could just buy cans," added Minskey.
Kiptyn says he was already thinking of starting a lemonade stand, so when Avery wrote him a letter to ask if he wanted to do a can drive, he thought it would be a big success.
"We were trying to get 50. Well it got over 50, we were like 100 maybe, we were like no. Then we were like 200 and then we came to 300 and were like oh my this is crazy," said Kiptyn.
As of today, the two 7-year-olds have collected nearly 400 cans, which they're boxing up to take to food pantries at their churches. Another portion of the items will go towards the Lunches of Love program, a weekend meal program for less fortunate kids in Madison County Schools.
"They might not have applesauce. A bunch of cans or like green beans or like carrots, beans," said Minskey.
Principal Tammie Burger says she Avery and Kiptyn's food drive was a pleasant surprise.
"I'm sitting at my desk and in runs these kiddos with a sign-up sheet and they are requesting me to sign-up to donate canned food items for their food drive," said Burger.
Burger says she wanted to make sure she wasn't missing a school organized food drive at the school, but quickly caught on to the youngster's intentions. As did the rest of the faculty. Cans began pouring into the school.
"And they were literally checking off everyone's name after we brought in our donations. So, it was really cute, it was almost a form of play in school. But their way to contribute and give back to the community," added Burger.
"We really wanted to help all of you who are poor and don't have much food. And we want you to have a really good Christmas," said Minskey.
Copyright 2018 WAFF. All rights reserved.