ID still sought for remains from 23-year-old cold case in Madison County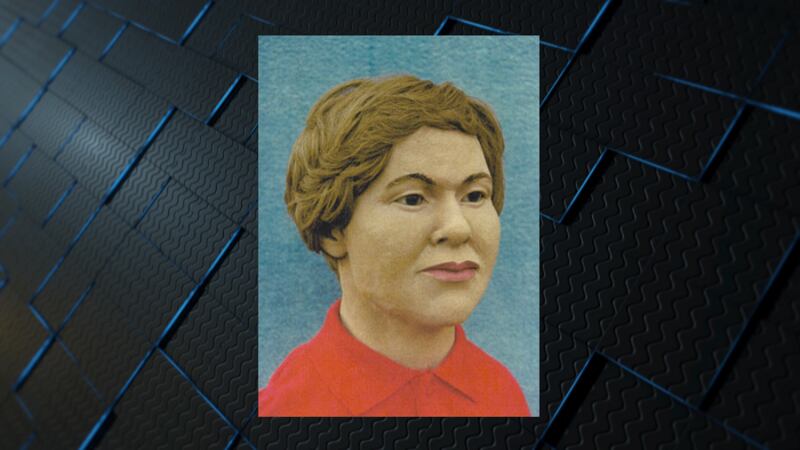 Published: Dec. 4, 2018 at 7:53 PM CST
MADISON COUNTY, AL (WAFF) - Investigators with the Madison County Sheriff's Office have been trying to identify remains found in northern Madison County for 23 years.
While investigators say they still don't know who the person is, they believe it was a woman and her death was the result of a homicide.
An image that was generated in 1996 by the University of Tennessee shows what the woman may have looked like. Investigators believe she was of mixed race, Caucasian and Asian, and somewhere between the ages of 32-42 years old.
"You just don't find a body dumped like that. You just don't find a female laying on a field road off a county road. That just doesn't happen," said Lt. Brian Chaffin with the Madison County Sheriff's Office.
Human remains were found in a wooded area off Baltimore Hill Road near Robert Strong Road on Sept. 22, 1995.
Chaffin said the case is one of four open cases they have, but this case is unique for one reason.
"This is the only human remains in Madison County that we have in our possession that we don't know who it is. And we continue to do stuff on a daily basis. And try new avenues," said Chaffin.
Chaffin is hopeful that one new avenue may be Samuel Little, who recently confessed to killing at least 90 people across the country in a 35-year span. One of those is a Decatur woman who was murdered in 2005.
"Sure, we hope he gives us information. Sure, we hope he can provide some kind of identity and some kind of information that would lead us to her family," said Chaffin.
[READ MORE: Suspected serial killer linked to Decatur woman's murder]
Chaffin said they are hopeful talking with Little may provide them the answers they've been looking for over 23 years.
He shared two pictures from their evidence file, a pair of Lee jeans and high-top Reeboks found with the remains. The sheriff's office contacted both companies that made them years ago, but they were so badly decomposed, no identification could be determined of where they were made or sold. Just one piece in a series of dead ends with this case.
"We want to prosecute somebody. We want to make an arrest. We want to find out who did this to this woman. But first of all we would just like to know who she is. That is our biggest goal right now," added Chaffin.
Right now, sheriff's investigators are working with Texas authorities to communicate with Little about the case.
If you believe you may have any information that could help with the investigation, please contact the Madison County Sheriff's Office immediately.
Copyright 2018 WAFF. All rights reserved.