Christmas decorations stolen, car burglarized in south Huntsville neighborhood
Neighbors hope crook is caught soon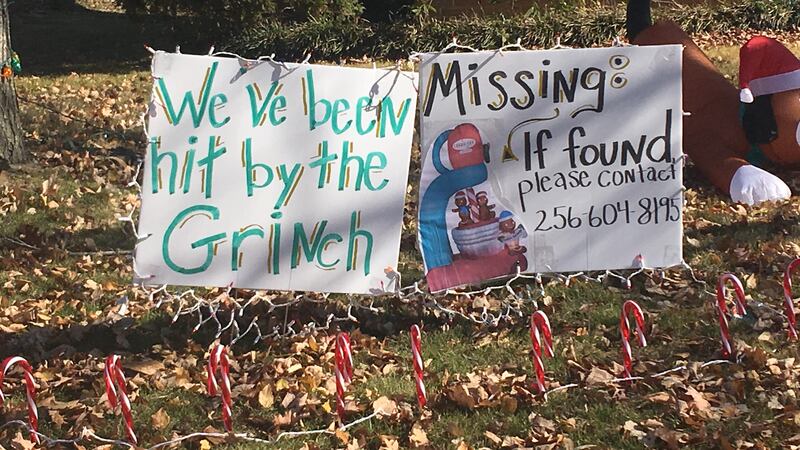 Published: Nov. 28, 2018 at 7:55 PM CST
HUNTSVILLE, AL (WAFF) -Mary Kathryn Van Bebber was upset after waking up Tuesday morning to find her 9 1/2 foot inflatable cookie mixer with spinning gingerbread men stolen from her yard off Hickory Hill Lane.
Van Bebber's yard was one of two hit on Monday night. She thought about putting up a new inflatable that fits her vision of the crook.
"I first thought about just putting out an actual Grinch, but it's Christmas time and all the decorations are pretty much gone, as it is now," said Van Bebber.
Instead, Van Bebber decided leave a message for the Grinch.
"So I made this sign, that we've been hit by the Grinch. And I put a picture of the inflatable, because the season has just started, nobody's really seen it. And put my number. So, maybe somebody would contact me if they had seen it or know a little bit about it," added Van Bebber.
So far, no calls. But during our conversation, her next door neighbor, Johnny Lawrence, walked over to tell her someone hit his home just last night. No inflatables nabbed this time, he says the crook ransacked his wife's car.
"Glove compartment, everything in the car had been tore up. Just threw all over the place. She was scared and we've not had anything like this in this neighborhood in 25 years. Having people stealing on the left and on the right, said Lawrence.
Fortunately nothing valuable was stolen, but Lawrence isn't happy with whoever is doing this and neither is Van Bebber. She just wants her inflatable back, which she says she won't be able to replace. "I checked and it's not available online or I even went to the store where I bought it, asked them if it's available and they said no," said Van Bebber.
If you have any information that may help Van Bebber, call the number listed on her sign.
Copyright 2018 WAFF. All rights reserved.