Harvest family says razor blade was in son's Halloween candy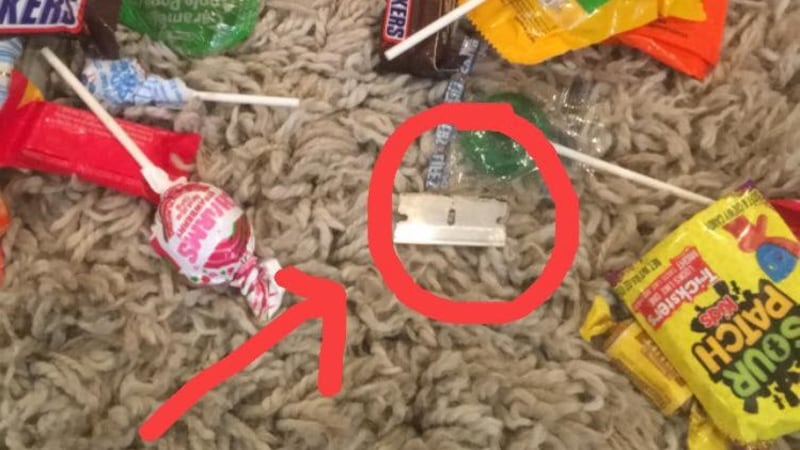 Updated: Nov. 1, 2018 at 10:48 PM CDT
HARVEST, AL (WAFF) - It's every parent's Halloween nightmare come true. A Harvest father is beside himself after a razor blade was found mixed in with his child's treat or treat candy.
Isreal Raybon says his son, D.J., like any other kid his age, looks forward to going trick-or-treating every year.
"Oh, he loves it. He is a wonderful kid. He's been looking forward to it since last year," said Raybon.
On Wedensday night, D.J. went trick-or-treating in Toney with family and friends in his own neighborhood. It's a community he has lived in all his life.
But when his mother emptied the contents of his bag to inspect his haul, she was shocked to see a razor blade mixed in with his candy.
"As a parent you never expect to find what you are looking for, so last night when the candy was dumped out and a razor blade was found. When you go looking for something you find it but you never expect it to happen to you. And as a child you don't really understand it. You just want to take it out and get your candy," said Raybon.
D.J.'s mother took his candy along with the razor blade and went to authorities.
Raybon says his son told him about one encounter that made him feel uneasy.
"I asked him, 'Son, who do you think put the razor blade in there?' You know, children tend to have a certain feel for people and he kind of reminisced about a certain situation. I won't get into all that because the sheriff's department is doing their investigation," he said. "I won't say if it was a man or a woman, but he kind of went back to a moment when he felt like that was the person."
As for D.J., he was more upset about the possibility of having to throw away all his candy.
"He understood it could have been a dangerous situation for him but he was more upset about the candy,and that is a typical child," Raybon said.
But as a father, Raybon wonders what type of person would try to hurt a child.
"I don't want to use the word hatred because we are using it so much now but what other word do you use - mean, spiteful, hatred - to put a razor blade. We know how much damage you can do if a child were to chew on it or crush it up in their hand. We just know the severity of it. I just don't know what to tell that person because it's something inside them that they will never get past," he said.
But Raybon says he will not keep D.J. for trick-or-treating in the future, but he will go with him next year.
WAFF 48 News contacted the Madison County Sheriff's Office about this incident. Sgt. David Moody said all they can do is file a miscellaneous report because they don't have a lot to go on at this moment. He says the neighborhood is a pretty large community and all they have is the family's statement and the razor blade.
But Moody says parents should do just what D.J.'s parents did. Check all your kids' candy before they are allowed to eat it and report anything suspicious to authorities immediately.
If you have any information in this case, contact the Madison County Sheriff's Office.
Copyright 2018 WAFF. All rights reserved.