Decatur organization collecting supplies for victims in the Carolinas
A wide range of supplies are needed as trucks head to the Carolinas.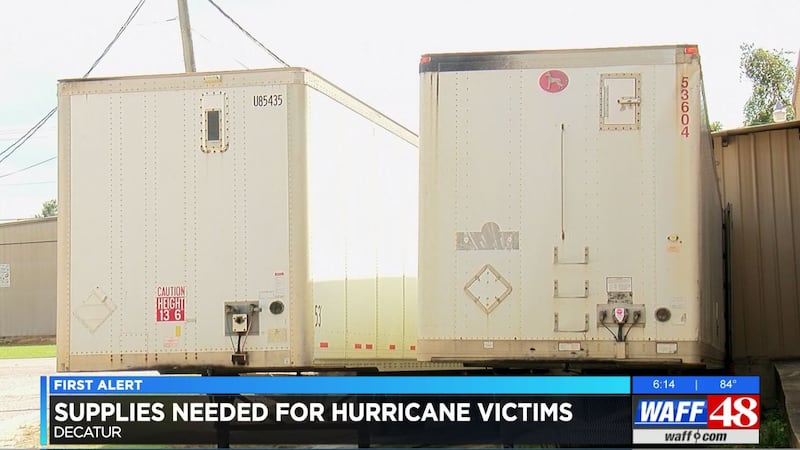 Updated: Oct. 7, 2018 at 5:25 PM CDT
DECATUR, AL (WAFF) - The United Methodist Warehouse in Decatur is asking for your help as it collects supplies for victims in North and South Carolina.
Volunteers are collecting a wide range of supplies. One item desperately needed? Bug spray.
Donations have been pouring into the United Methodist Disaster Warehouse this week as volunteers work to sort and load trucks to be sent to the Carolinas.
Warehouse director Ray Crump says they feel compelled to help victims of the hurricane, because of all the assistance north Alabama has received in times of natural disaster.
"These people need help. And if it was reversed and it was us that had a tornado or an earthquake here in the Tennessee Valley or surrounding area, we would be the ones that would be hurting." said Crump.
Volunteers are collecting a number of items.
"Garden sprayers, two gallon garden sprayers. Two-wheel wheelbarrows. Especially, insect repellant. Cutters, Deep Wood, anything that's got deet in it." continued Crump.
They are also collecting box fans to help dry out rooms in flooded homes.
The warehouse is sent out their second trailer of supplies on Saturday and another will be going out in the next week.
If you would like to contact the United Methodist Disaster Warehouse to make a donation, you can call 256-341-9961.
Copyright 2018 WAFF. All rights reserved.