Family members share powerful message as details surface in Huntsville triple homicide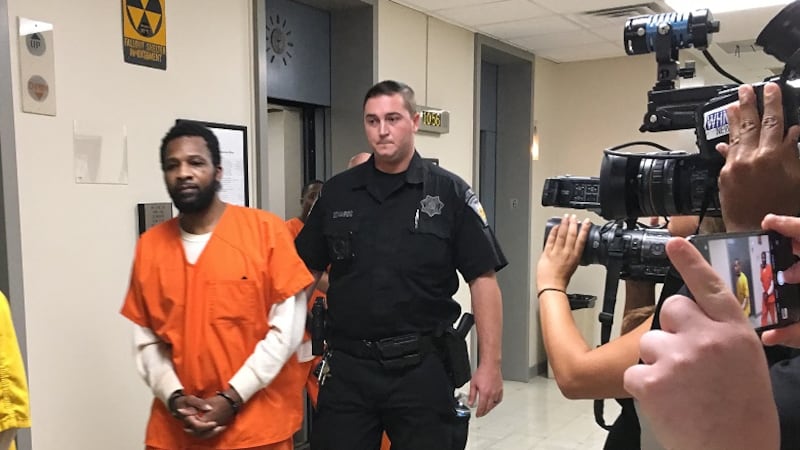 Updated: Sep. 5, 2018 at 3:32 PM CDT
HUNTSVILLE, AL (WAFF) - A triple murder suspect's case is headed to a Madison County grand jury after testimony on the tragic killings was presented in court by Huntsville investigators.
Rodney Geddes Sr. appeared before Madison County District Judge Patricia Demos for his preliminary hearing Wednesday, and the victims' loved ones filled the courtroom, wearing shirts that said "Gone But Not Forgotten."
Family members leaned on each other when the investigator on the case took the stand and revealed how the killings happened.
Geddes is accused of shooting and killing his girlfriend 42-year-old Iris Bynum, her daughter, 17-year-old Heaven Hines, and Heaven's friend, 16-year-old Xzariah Rice.
All three were found dead in Bynum's home on Knollwood Drive in Northwest Huntsville in June, their bodies located in different locations throughout the house.
Geddes had been living there and had a relationship with Bynum, but she told family members before she was killed that she had a fight with Geddes and kicked him out.
Geddes was arrested in Tennessee after the murders with blood on his clothes and extradited to Alabama.
HPD investigator Michael Denoon laid out his findings on the stand.
He said it all started when family members could not get in touch with the victims so they went to the house to check on them.
Bynum's daughter, Treasure Braxton, went inside, saw a foot of a someone down on the ground, got scared and backed out of the house.
She asked her friend to go in and he found the bodies.
Police responded to the scene and talked to relatives who said there was a history of domestic violence involving Geddes.
In the house, blood was found along with .380 shell casings.
Geddes' Lexus was in the driveway and inside the car, investigators say they found spent .380 shell casings that matched those found in the house.
Police located video of him at 4 a.m. at a Citgo gas station in one of Bynum's cars after the murder, which they say he traded for drugs.
HPD got call from police in Franklin County, Tennessee that Geddes had been arrested for possession of crack cocaine.
In Tennessee, he approached an officer who was conducting a traffic stop on the night of June 19th and asked for help. Geddes told the officer he was with a group of people getting high and he thought they might rob him so he jumped out of the moving car, which turned out to be Bynum's other car, a Nissan Maxima.
Investigators looked at Bynum's phone records and found that at 11:50 p.m. on June 18 was the last time she spoke to her sister.
Then at 1:41 am on June 19th, the same sister got a call from Geddes and he asked to talk to her about what was going on between him and Bynum which she thought was strange. Geddes never showed up to talk to her.
Bynum told her sister during their final conversation that her and Geddes had a fight. He accused her of cheating and she kicked him out.
Geddes' mother revealed she received calls and texts from him the night of the crimes.
He told her that he was packing his belongings and going to a hotel. Then she received a text that said: "I love you all. I'm sorry."
In another conversation, she said Geddes sounded out of breath, high and upset about his fight with Bynum.
Huntsville investigators went to Tennessee to interview Geddes.
He told them he was doing drugs, met some people and thought they were going to steal his chain so he jumped out of the car.
Photos were taken of his injuries, which included road rash. Geddes thought he might have broken his foot as well, but he told investigators that none of his wounds had caused him to bleed.
Investigator Denoon noticed blood on Geddes' socks and pants, which weren't ripped from reportedly leaping out of the car. When Denoon asked him about Knollwood Drive and what happened, Geddes immediately said he wanted a lawyer.
Forensic results on the blood on his clothes are not back yet, Denoon testified.
A warrant for Geddes was issued and he was extradited back to Alabama and charged in the three murders.
At the crime scene, investigators said they found Heaven's body on the floor in the hallway. She suffered gunshot wounds to her mouth, hand and chest and what appeared to be an exit wound at the base of her skull, Denoon said.
He went on to testify that Xzariah's body was found in the bathroom. She had gunshot wounds to her face and temple.
Bynum's body was found in her bedroom. She suffered a gunshot wound to her chest.
As Denoon discussed the victims' injuries, family members cried and leaned on each other for support.
Denoon also explained Geddes' capture in Tennessee. Geddes "came out of nowhere" to speak to the officer he approached during the traffic stop and the officer ran his name in the computer system, but no warrants came up so he let Geddes go. When the officer went back to the police station and learned that HPD was searching for Geddes in connection with the murders, a BOLO was issued and he was located and taken into custody.
Geddes did not offer any explanation for what happened in the home he shared with Bynum, Denoon said.
The victims' relatives spoke to us after the hearing and said how hard it has been for them to cope with their deaths.
Geddes attorney, meanwhile, says he remains adamant that he is not guilty.
In the end, Demos found probable cause and bound the case over to be presented to a Madison County Grand Jury.
Tim Douthit, assistant district attorney for the Madison County district Attorney's office, spoke to the media after the hearing, saying: "The fact that you have three victims is tragic. Any loss of life is tragic, but when losing a mom and a little girl like that and then her friend coming over, all three of them killed in such a brutal way, the family is understandably upset about the whole thing. There were about 30-40 of them here today and they kept remarkably cool under circumstances that I don't if I would have been able to sit there and listen to."
He was asked if the state is going to seek the death penalty against Geddes.
Douthit responded: "We have not made that decision yet. That's going to be a big decision, obviously, and we're not going to make that until we have 100% of the evidence. We have to wait for the DFS reports, the DNA to come back, the autopsies. When you're talking about someone's life, in this case a fourth person's life because of the three that have already been lost, we want to have all of the evidence before we make that call."
Bruce Gardner, Geddes' defense attorney, also spoke to reporters Wednesday.
"We were here primarily to gather information because we did not have access to anything from the state. So we learned a lot and it was very beneficial to our defense," Gardner said.
He said Geddes maintains his innocence.
"All he is going to say at this point is that he is not guilty. He said he did not do this and we're going to have to see how all of this develops," Gardner added.
When asked about the alleged history of domestic violence involving Geddes, his lawyer responded: "Obviously they're very relevant to the state's case and to our defense. I don't know the seriousness of it. I know they had been together for a considerable amount of time. I don't how all of that played in."
Janice Bowling, Bynum's sister, says the family has faith that justice will be served.
"God is going to take care of everything. God knows that if you did something, you have to pay for what you did," she said. "We are asking God to help us every day."
Loved ones still don't understand why all three victims had to die that night.
"I don't know why. I don't know what happened. Domestic violence is bad. That's what I tell everybody to not be with anybody who treats you bad. It's time for everybody to rise up. If they hit you one time, they're going to keep messing with you so get out. Get out now before something happens to you," Bowling added.
We asked what she would say to Geddes if she had the chance, she stated: "I forgive him. God is in charge."
Copyright 2018 WAFF. All rights reserved.