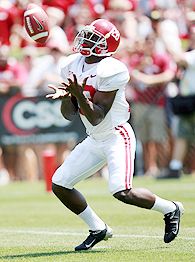 TUSCALOOSA, Ala. (AP) - Alabama's Javier Arenas is aiming to show he's a good cornerback, too.
Arenas has been known mostly as a return man the past two seasons, with occasional action in the secondary. Now he is ready to move into a starting role at cornerback for the Crimson Tide.
The 5'9" Arenas says that status comes as no surprise to him since he always considered himself a defensive back first and a return man second.
Alabama's previous recruiting staff recruited him primarily as a special teamer.
Arenas, a solid kick returner, finished 7th nationally in punt return average last season, including a 61-yard touchdown in the 4th quarter against LSU.
(Copyright 2008 by The Associated Press. All Rights Reserved.)