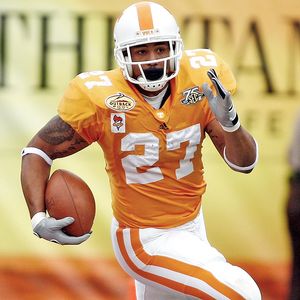 KNOXVILLE, Tenn. (AP) - Arian Foster recovered from a sore knee enough to lead Tennessee's offense to an opening-possession touchdown in a scrimmage at Neyland Stadium last night.
The All-SEC senior tailback had four touches for 39 yards on the first five plays. He ran for 11 and 4 yards before catching passes for 18 and 6, taking the Volunteers inside the 40-yard line.
Foster didn't dress for last Saturday's first major scrimmage, and he sat out several practices during the week with a "bone bruise" on his knee. Foster says he's not 100%, but he didn't feel any pain last night.
The 10-play, 70-yard opening drive finished with Jonathan Crompton's 8-yard touchdown pass to Jones, who finished with 82 yards on six catches.
The first-team offense didn't reach the end zone in six possessions last Saturday.
(Copyright 2008 by The Associated Press. All Rights Reserved.)