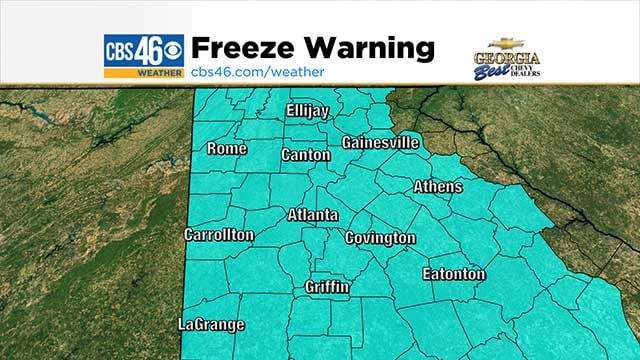 ATLANTA (CBS46) -
A freeze warning is in effect for Atlanta until 10 a.m. Tuesday.
This means freezing temperatures may damage or kill tender, early spring vegetation.
In case you're wondering why the sudden warning, considering it's been freezing for the last three months, these warnings will be very important as we transition back into the warm season.
It was 74 degrees in Atlanta Sunday.
The warmup means spring vegetation is developing. Whenever temperatures warm up, followed by a quick cold snap, warm weather plants that develop during the warmup could suffer when the temperatures drop again.
The freeze warnings aren't just to advise you of freezing temperatures, but to also let you know when freezing temperatures could create a risk to plants and pets.
As we advance through March, it will become more unusual to see freezing temperatures (the average low is 41), so the freeze warnings are a way to give you a heads up.

The National Weather Service will continue to issue freeze warnings for any additional nights when below freezing temperatures are expected.
Copyright 2014 WGCL-TV (Meredith Corporation). All rights reserved.